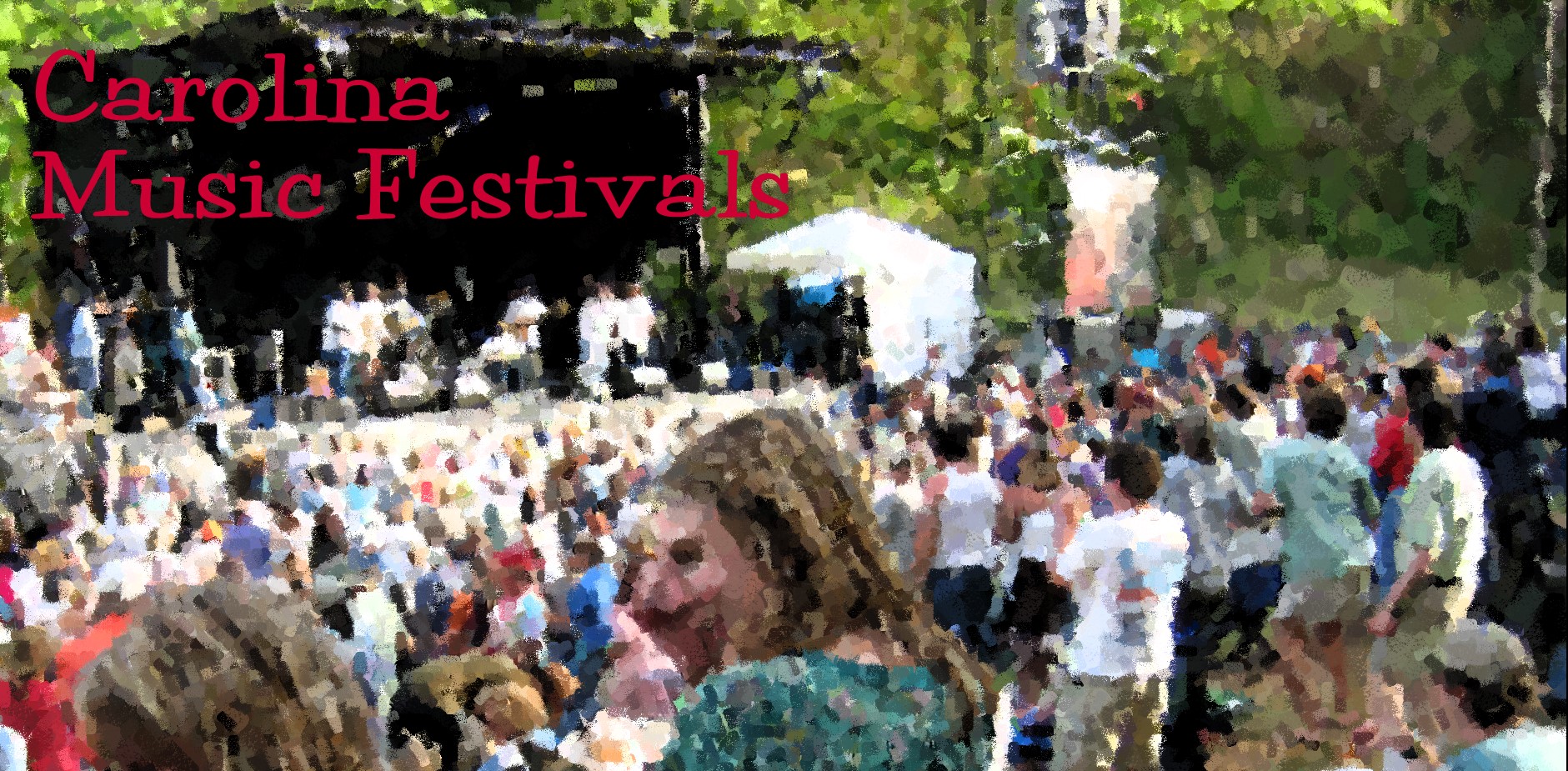 ** Mobile Users - turn your device sideways for better results. **
The bands come and go, but the festivals play on.

Carolina Music Festivals is a comprehensive calendar and guide to multi-act, daylong or multiple-day music festivals in North Carolina. In addition to the most up-to-date information available about dates, acts and prices, we'll tell you about the festival itself - the layout of the grounds, the best way to see it, what kind of vibe to expect (these additional pages are constantly under development as we make it to more festivals each season).

Click on a month you are interested in at right, or scroll the master calendar below and click on an NC music festival's name for more information about that festival, including maps to festival sites and links to festivals' websites.

A photo with a festival listing indicates that we have more photos and an essay profiling that festival (like this one); click on the photo for more information.

Most music festivals in North Carolina cater to families. If you haven't been to one because you have children, find a festival near you that you and the kids will enjoy.

Stay up to date by following us as @NCMusicFests on , or , where we are Carolina Music Festivals.
If we've left out any of your favorite North Carolina music festivals (or just some you know about), please let us know!
North Carolina Music Festivals 2018
Nov. 30 - Dec. 1
Balsam Range Art of Music Festival - Lake Junaluska

13 - 15
A Bluegrass Kinda Christmas - Raleigh

Other Festivals We've Seen

Click on the photos for pages about festivals outside North Carolina we have been to. They are not part of the calendar.


Cayamo
Singer-Songwriter Cruise


French Quarter
Festival 2012

Search for your favorite band, festival or location (i.e., "Boone")
on Carolina Music Festivals:



Ask us about the broad reach and low cost of advertising with Carolina Music Festivals.



Need writing or editing help? Call on PC Nelson Communications today.



Disclaimer: We've tried to gather the most up-to-date and accurate information available, but everything is subject to change and, for that matter, we and our sources make the occasional mistake. We try to update each weekend or when notified of new information. Information from the previous year may remain posted for certain festivals until updated plans are announced; in particular, fees may change from year to year and dates may be estimated based on the previous festival. Festivals come and go; we work through websites, Facebook, email, mainstream media sources and the occasional phone call. If a festival's listing has not been updated and it's close to the festival date, it may not be happening this year. We tend to err in favor of the festival happening, and keep festivals listed on the site as long as seems reasonable.
We cannot and do not guarantee any of the artists, prices, show times, locations, maps, camping options or other information about the music festivals we refer to on this site. Please let us know about any mistakes or out-dated information you find. And, before you head out, check individual music festivals' websites for information and/or contact them via email or phone to make sure they plan to present the show you expect to see.
Carolina Music Festivals is compiled, designed, written, photographed and published by Christopher E. Nelson.



Established January 2010. We've had visits to this page since this counter re-set itself on Oct. 22, 2012.



Visit Our Sister Sites

Carolina Outdoors Guide // This Land, Your Land

PC Nelson Communications