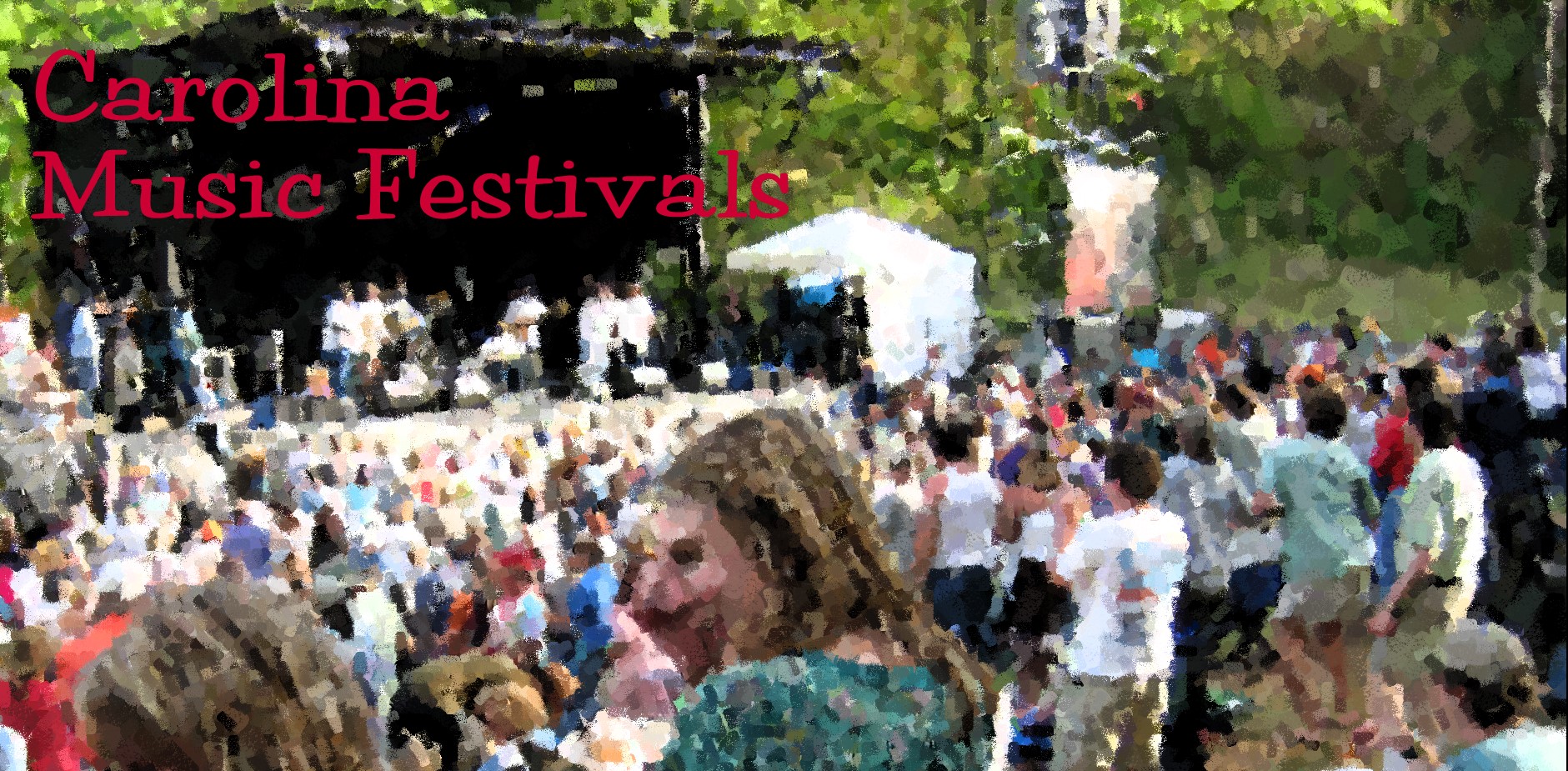 Carolina Music Festivals is a comprehensive calendar and guide to multi-act, daylong or multiple-day music shows in North Carolina.
August 2015
Dates and other details may be estimated based on last year's festival until confirmed by festival organizers.
Through August 1 Eastern Music Festival - Greensboro
(See the June calendar)
Through August 2 Brevard Summer Institute & Festival - Brevard
(See the June calendar)
July 30 - August 1 PreddyFest Bluegrass Festival - Franklinton

What was originally a weekend get-together of friends and pickers has evolved into a three-day family event on the Tar River that is in its 18th year in 2015. Band typically play afternoon and evening sets.
Artists
Thursday: Sourwood Mountain Bluegrass Band, Highway 58, Carolina Blue.
Friday: Malpass Brothers, Al Batten and Bluegrass Reunion, Constant Change, Lawson Creek Grass.
Saturday: Joe Mullins and The Radio Ramblers, Darin and Brooke Aldridge, Flatt Lonesome, Mountain Faith.
Festival site: Green Hill Road

View Larger Map
5 to 11 p.m. Thursday, 2 to 11 p.m. Friday, noon to 11 p.m. Saturday.

Three-day pass: $50 in advance, $60 at gate; Thursday $20; Friday $25; Saturday $25.
Younger than 14 free.

Camping is included with a ticket. Hot showers are available, but no hookups.
July 31 - August 1 Reevestock Music Festival - Elkin
The festival was started by local folk-rock band Time Sawyer to raise money for restoration of the Reeves Theater in Elkin, and continues as a broader benefit to the community. It includes music for all ages on two stages, food and drinks, and activities for the kids. It is in its 5th year in 2015.
Artists
Friday: Steelism, Luke Mears.
Saturday: The Black Lillies, Andrew Combs, Time Sawyer, Sinners and Saints, Caroline Spence, Clint Roberts.
Festival site: Elkin's Hidden Amphitheater and Liberty Reception Hall

View Larger Map
Friday's kickoff concert at Liberty 7 p.m.; Saturday 2 p.m.

Two Day Pass: $30 until May 31, $35 until June 30, $40 until July 17, $45 afterward.
Friday: $10 until May 31, $15 until June 30, $17 until July 17, $20 afterward.
Saturday: $15 until May 31, $20 until June 30, $25 until July 17, $30 afterward.
August 1 Awesome God Festival - Harmony
The festival combines Christian music of all genres and ministry from two stages, and adds activities at several church-sponsored booths, plus food and arts and craft vendors. There's also a hay ride and inflatables for kids.
Artists
Bethel Music, Abandon, Brian Houston, Relinquish, The Change, Jericho, Splitting Cedars, Against the Nights, Heavenly Armored, Firm Foundation Band, Justin Baucom, Redeemed, Les Hall, Renee Griffith, City Cry Group.
Festival site: VanHoy Farms Campground
August 1 - 2 LEAF Downtown AVL - Asheville
The LEAF, which puts on four-day May and October festivals in nearby Black Mountain, brings a taste of the 20-year-old event to downtown Asheville for two days beginning with a 2015 show. It is to include three stages of music, plus art, workshops, family activities and "creative collaborations." In addition to a companion 5K run, the festival plans to present about 90 local vendors. And it's free. A kickoff party brings the Ohio Players to New Mountain Asheville Friday.
Artists
Bootsy Collins' Rubber Band, Red Baraat, Dangermuffin, LEAF Love Band, Sister Sparrow and The Dirty Birds, The Main Squeeze, Old Landmarks Gospel BlowOut, The London Souls, Empire Strikes Brass, Arouna Diarra, Santos, Marcel Anton, Indigo de Sauza, To All My Dear Friends, Unifire Theatre, Faerie Kin, Old Timers in the Round, Fritz Beer and the Crooked Beat, more.
Festival site: Downtown Asheville
Noon to 10 p.m. Saturday, 10 a.m. to 6 p.m. Sunday.
5K run begins 9 a.m. Saturday.

VIP tickets (regular admission is free): $75 for cocktail party at Biltmore Building rooftop, access to the VIP lounge at Twisted Laurel Cafe with complimentary beer and appetizers, surprise performances and games, artist meet-and-greets, swag.
August 6 - 8 Mountain Dance and Folk Festival - Asheville
Since 1928, the Mountain Dance and Folk Festival has presented a wide repertoire from old-timers as well as the newest generation of mountain musicians, dancers and cloggers whose performances echo centuries of Scottish, English, Irish, Cherokee and African heritage. The festival also designates "Legacy Performers" who have made significant contributions to the region's musical heritage over several decades.
Artists
Thursday: Grey Eagle - Stoney Creek Boys, Betty Smith, Buncombe Turnpike, Roger Howell and Friends, Sons of Ralph, Don Pedi, Carol Rifkin, Scratch Ankle Serenaders, Spirit Fiddle, Clearwater Connection, Whitewater Bluegrass Company. Dance Teams: Folk Heritage Smooth Dancers, Stoney Creek Cloggers, Green Valley Cloggers, J Creek Cloggers, Fines Creek Cloggers.
Friday: Grey Eagle - Stoney Creek Boys, Richard Hurley, Spirit Fiddle, Appalachian Consort, Joe Penland, Denise O'Sullivan, Bobby Hicks, Maggie Lauterer and Zack Allen, Gabriel's Creek, Laura Boosinger, The Buckner Family, New Broad River Band. Dance Teams: Cole Mountain Cloggers, Dixie Darlins Cloggers, Appalachian Mountaineers Cloggers, Blue Ridge Heritage Cloggers.
Saturday: Grey Eagle - Stoney Creek Boys, The Ross Brothers, Bryce Parham and Kathryn Brickey, Phil and Gaye Johnson, Crooked Pine, The Griggs, Southern Highlanders, Bobby Anderson and Blue Ridge Tradition, The Trantham Family, The Waymasters, Spirit Fiddle, Bearwallow. Dance Teams: Mountain Tradition Cloggers, Bailey Mountain Smooth Dancers, Bannerman Family and Friends, Southern Mountain Fire Cloggers, Bailey Mountain Cloggers.
Festival site: Diana Wortham Theatre

View Larger Map
7 to 10 p.m.

Three-day pass: $54, younger than 13 $24.
Nightly: $20, younger than 13 $10.
August 6 - 8 Soulshine Farm Music Festival - Green Mountain
The festival debuted in 2014 with hopes of becoming a perennial gathering of mountain folk enjoying the old and new mountain ways. In addition to three music stages, the weekend is to include hiking, camping and workshops on topics ranging from songwriting and contra dancing to an edible plants hike, sacred geometry and sword battle.
Artists
Thursday: Come Back Alice, The Applebutter Express, Nikki Talley, Grandpa Jerry's Soul Kitchen Revival, Screamin' Js.
Friday: Zach Deputy, Mac Arnold and Plate Full o' Blues, The Giving Tree Band, The Applebutter Express, Ali Randolph and the Outta Luck Band, Nikki Talley, Displace, Grandpa Jerry's Soul Kitchen Revival, Saylyn Roots Reggae, Kendra Warren, Kolkata, Screamin' Js.
Saturday: Toubab Krewe, Snake Oil Medicine Show, Jon Stickley Trio, Comeback Alice, Awake in the Dream, Brushfire Stankgrass, Dr. Bacon, Franklin's Kite, The Applebutter Express, Mountain Feist, Sol Rhythms, Bruckshot, Screamin' Js.
Festival site: Sunshine Organic Farm

View Larger Map
Gates open noon Thursday for campers with three-day pass.

Three-day pass (includes primitive camping): $65 until May 15, $80 in advance, $95 at gate; ages 13 to 17: $25, $35, $40.
Daily: $45 until May 15, $55 in advance, $65 at gate; ages 13 to 17: $20, $25, $30.
Younger than 13 free.

Add $100 to three-day pass for RV camping, $50 for car camping (limited number available for each).
August 7 - 8 Ola Belle Reed Music Festival - Lansing
The celebration named for the acclaimed singer-songwriter presents bands from the Americana, bluegrass, old-time, country and folk traditions. There are also instrumental, songwriting and voice workshops, an outdoor jam tent, a craft market, food court and more.
Artists
Terry Baucom and the Dukes of Drive, Wayne Henderson, David Reed, Crooked Road Ramblers, Cindy Fink and Marcy Marxer, Whitetop Mountain Band, Sheets Family Band, Molly Andrews.
Festival site: Lansing Creeper Trail Park

View Larger Map
Starts 5 p.m. Friday, noon Saturday.

The festival is free; a $5 donation is suggested.

Primitive tent camping onsite: $10 per night donation requested.
RVs at American Legion field 1.5 miles from festival, with water and "some" electricity: $35 per night.
August 13 - 15 N.C. State Bluegrass Festival - Marion
This campground-based festival is in its 41st year in 2015. Bands typically play afternoon and evening sets, though headliners may just play evening shows.
Artists
Thursday: Del McCoury Band, The Grascals, Michael Cleveland and Flamekeeper, James King Band, Adkins and Loudermilk, Dry Branch Fire Squad.
Friday: Gene Watson and the Farewell Party Band, Rhonda Vincent and the Rage, Doyle Lawson and Quicksilver, Blasam Range, The Primitive Quartet, Monroe Crossing, Goldwing Express.
Saturday: Dailey and Vincent, Jimmy Fortune with Dailey and Vincent, The Little Roy and Lizzie Show, The Moron Brothers, Big Country Bluegrass.
Festival site: Tom Johnson Camping Center Rally Park

View Larger Map
Noon to 10 p.m. (open stage at 11 a.m.)

Three-day pass: $90 in advance, $95 at gate; ages 7 to 13, $45 in advance, $50 at gate.
Daily: $40 in advance, $45 at gate; ages 7 to 13 $15.
Younger than 7 free with an adult.

Campground stay during the festival requires a three-day ticket.
August 14 - 16 Irie Vibes Music Festival - Forest City
The festival presents mostly reggae bands from all over the Southeast on three stages, along with vendors, yoga, camping and more. The festival debuted in 2013. Sun-Dried Vibes is the host band.
Artists
Sun-Dried Vibes, Oogee Wawa, See Water, Floralorix, The Substance, Elusive Groove, Poly Essence, Big Break, The Dubber, Tree House!, Dale and the ZDubs, Of Good Nature, Part One Tribe, Root of All, The Driftaways, The Reef, Inner Prolific, Roots of a Rebellion, Sowflow, Queen City Dub, Elephant Convoy, Oceanstone, Five40, Cloud 9 Vibes.
Festival site: Copper Mines Event Park
Noon Friday to 6 p.m. Sunday.

Weekend Pass: $50 early bird (through July 4), $60 in advance.
Friday: $20.
Saturday: $30.
Sunday: $10.
Additional packages available: (See tickets and scroll down).
August 15 WhoDat Festival - Greensboro
The volunteer-run, non-commercial festival celebrates North Carolina artists and musicians. In addition to electric and acoustic stages, the festival presents a local comedy showcase this year. It also offers inclusive art projects, skill shares, open mics, jam sessions, art and food vendors and more, including a beard and mustache competition by the N.C. Beard and Mustache Club. The 2014 show was in early September.
Artists
The Chit Nasty Band, Crystal Bright and the Silver Hands, The Midatlantic, The Tan and Sober Gentlemen, The Tills, See Gulls, Vaughn Aed, QORDS Youth Performance.
Festival site: Doodad Farm

View Larger Map
Gates open and open mic performances begin at 11 a.m.

Suggested donation of $15 to $30 goes totally to bands playing the festival.

Camping onsite.
August 22 Groove in the Garden - Raleigh
| | |
| --- | --- |
| The Pour House Music Hall in downtown Raleigh is putting on an eclectic day of music and food at Raleigh Little Theatre's rose garden. Bands from across the state will play indie pop, Southern rock, R&B and bluegrass. There will also be several food trucks and a "vendor village" populated by a couple of dozen booths. Click on the photo for more information. | |
Artists
The Love Language, Bombadil, 6 String Drag, Laura Reed, Jack the Radio, Nuclear Honey, The Midatlantic, First Person Plural.
Festival site: Stephenson Amphitheater at Raleigh Little Theatre
1 to 9 p.m.; gate opens at noon.

$10.
August 27 - 29 Clear Mountain View Music Festival - Polkville / Lawndale
| | |
| --- | --- |
| The festival offers a weekend full of music on two stages, plus camping, vendors, a sugar cane field sculpture, on a fourth-generation family farm. It is in its fourth year in 2015. Click on the photo for more information. | |
Artists
Larry Keel Experience, Big Daddy Love, Dangermuffin, Simplified, Dirty Grass Soul, The Corbitt Brothers, L Shape Lot, The Josh Daniel / Mark Schimick Project, Isaac Haze Band, The Ya Yas, Roger Padgett.
Festival site: Elliott Family Farms

View Larger Map

Three-day pass: $70.
Thursday: $10
Friday and Saturday: $55
Saturday only: $30
VIP three-day pass: $170, includes VIP parking, backstage passes, shuttle between stages, seats in tents, drinks, snacks, souvenirs, etc.

Camping (primitive): tents free with ticket; RVs $5.
August 28 - 29 American Roots Bluegrass Festival - Greensboro
An event planner / musician and her journalist assistant established the festival in 2014 as a one-day October show. In addition to traditional and modern bluegrass and musicians' workshops, vendors offer food, crafts and merchandise.
Artists
Terry Baucom's Dukes of Drive, The Smith Family and The Southbound Pickers, BackPorch Bluegrass, Mountain Rain, Rich in Tradition.
Festival site: Groome Inn

View Larger Map
Workshops 8 to 10 a.m., music 10 a.m. to 6 p.m.

$15 advance, $20 at door.
VIP (early admission for workshps, t-shirt, goodie bag): $30 advance, $35 at door.
Age 5 to 13: $10 advance, $15 at door.
Younger than 5 free with adult.
August 28 - 30 Three Days of Light Gathering - Old Fort
The 3DL festival bills itself as part retreat, part festival, part summer camp, part earth school. In addition to music, the weekend offers three dozen workshops on such topics as sustainable living, natural health and wellness, personal / spiritual development and community and culture, plus keynote speakers, yoga and movement classes, flow / fire performances, fire dance, drum circles, and more. It is in its fourth year in 2015.
Artists
Friday: Srikalogy, Jenna Gilmore, Heiss, Kellee Maize, Stratosphere, Ascentient, Scott Huckabay.
Saturday: EarthCry, Sacral Crown, Human Experience, Luminaries, Drumspyder, Antandra, The Vulgarians, Cosmic Village, Sunny Day, Ashlandis.
Sunday: Erex, Electrochemical, Infinite Third; I, Star; Option 22, Spaceship Earth, Izgreyala, Colin Martin, Christina Musumeci.
Festival site: Camp Grier
2:30 p.m. Friday, 1:30 p.m. Saturday, 1 p.m. Sunday.

Weekend pass (with camping): $135; with forest or lakeside camping: $155.
Friday: $45.
Saturday: $55.
Sunday: $40.

Weekend pass with rustic lodging: $180; indoor lodging $220.
Couples' indoor lodging package: $333.
Group rustic cabin (sleeps up to 10): $1,200.
Meal passes: $75.
(Details with ticket info.)
August 29 Youth Fest Christian Music Festival - Louisburg
Since 2003, the festival put on by Pilot Baptist Church of Zebulon has grown from a free show on the church lawn to a day-long event with several bands plus a guest speaker, a BMX stunt team, rock climbing wall, obstacle course, a gladiator joust, and more. Concessions will be sold onsite as well.
Artists
Mikeschair, Abandon, Surrounding Jericho, more TBA.
Festival site: Norris Creek Outdoor Entertainment Complex
Noon to 6 p.m.

$10, ages 4 to 10 $5.

See our look at another festival held at Norris Creek.


Return to Carolina Music Festivals' home page.




Go to July Music Festivals // Go to September Music Festivals


Visit Our Sister Sites
Carolina Outdoors Guide // This Land, Your Land

PC Nelson Communications // The Medium, The Message


---