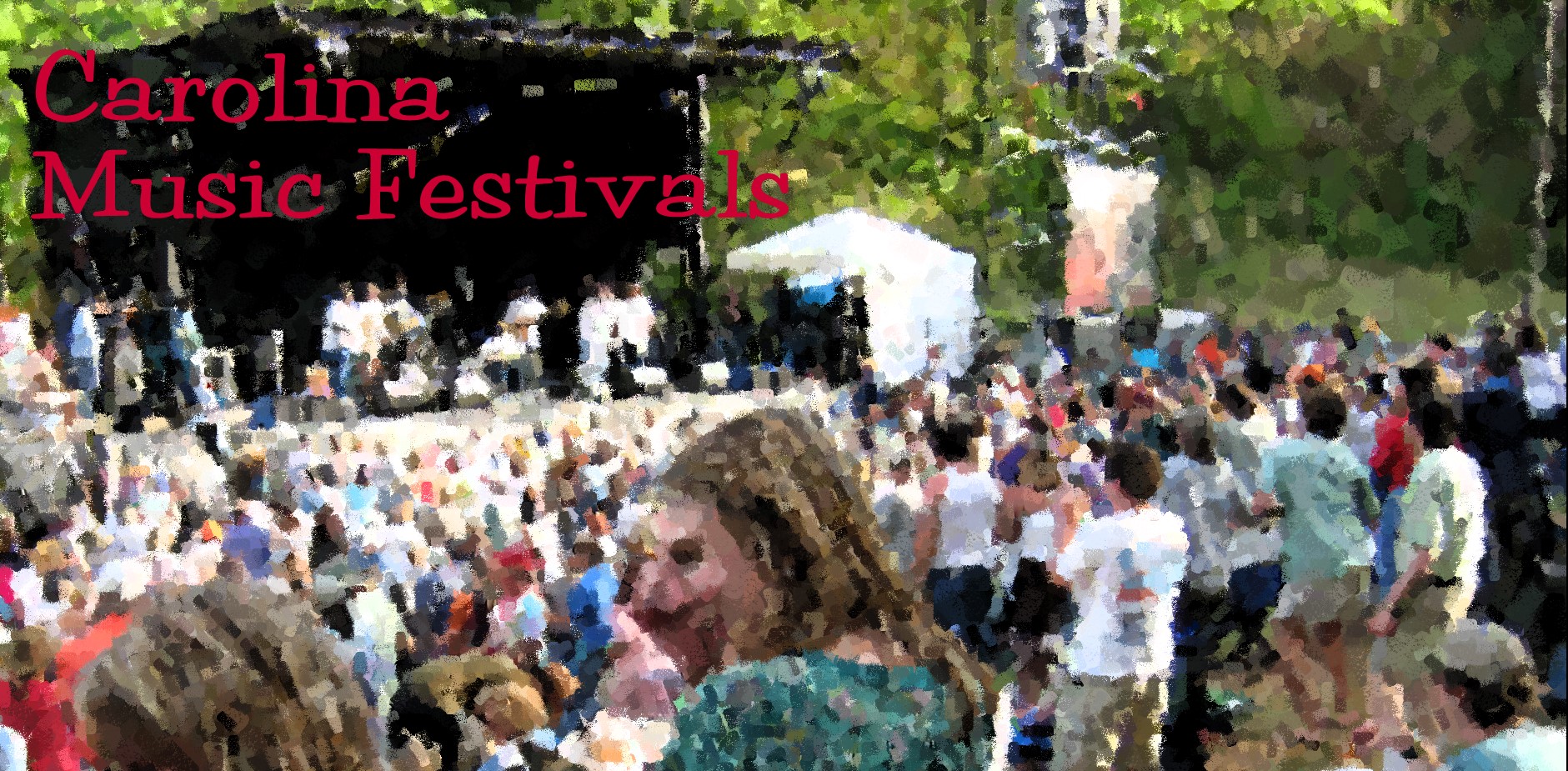 Carolina Music Festivals is a comprehensive calendar and guide to multi-act, daylong or multiple-day music shows in North Carolina.
August 2014
Dates may be estimated based on last year's festival until confirmed by festival organizers.
Through August 3 Brevard Summer Institute & Festival - Brevard
(See the June calendar)
July 31 - August 2 PreddyFest Bluegrass Festival - Franklinton

What was originally a weekend get-together of friends and pickers has evolved into a three-day family event on the Tar River that is in its 17th year in 2014.
Artists
Thursday: Sourwood Mountain, Allen's Mill, Lorraine Jordan and Carolina Road.
Friday: Highway 58, Al Batten and the Bluegrass Reunion, Constant Change, Lost and Found.
Saturday: Side Line, Malpass Brothers, Michael Cleveland and Flamekeeper, Grasscats, The Churchmen.
Festival site: Green Hill Road

View Larger Map
5 to 11 p.m. Thursday, 2 to 11 p.m. Friday, noon to 11 p.m. Saturday.
Bands play two sets each day.

Three-day pass: $50 in advance, $60 at gate; Thursday $20; Friday $25; Saturday $25.
Younger than 14 free.

Camping is included with a ticket. Hot showers are available, but no hookups.
July 31 - August 2 Mountain Dance and Folk Festival - Asheville
Since 1928, the Mountain Dance and Folk Festival has presented a wide repertoire from old-timers as well as the newest generation of mountain musicians, dancers and cloggers whose performances echo centuries of Scottish, English, Irish, Cherokee and African heritage. The festival also designates "Legacy Performers" who have made significant contributions to the region's musical heritage over several decades.
Artists
Thursday: Ed Herron, Grey Eagle - Stoney Creek Boys, Betty Smith, Peg Twisters, Maggie Lauterer and Zac Allen, The Griggs, Shelia Kay Adams, Jeanette Queen and Carol Rifkin, Crooked Pine, Bobby and Blue Ridge Tradition, The Trantham Family, Whitewater Bluegrass Company, and dance teams.
Friday: Ed Herron, Grey Eagle - Stoney Creek Boys, Appalachian Consort, Phil and Gaye Johnson, The Waymasters, Bruce Parham and Kathryn Brickey, Clearwater Connection, Bearwallow, The New Broad River Band, Joe Penland, The Arrowood Sisters Band, Laura Boosinger, Bearwallow, and dance teams.
Saturday: Ed Herron, Grey Eagle - Stoney Creek Boys, Paul Crouch and Friends, The Ross Brothers, Brooke and George Buckner, The Cockman Family, Don Pedi, Clearwater Connection, Roger Howell, Southern Highlanders, Richard Hurley, Buncombe Turnpike, and dance teams.
Festival site: Diana Wortham Theatre

View Larger Map
7 to 10 p.m.

Three-day pass: $54, younger than 13 $24.
Nightly: $20, younger than 13 $10.
August 1 - 2 Reevestock Music Festival - Elkin
The festival began in 2011 to raise money for restoration of the Reeves Theater in Elkin by local folk-rock band Time Sawyer, and continues as a broader benefit to the community. It includes music for all ages on two stages, food and drinks, and activities for the kids.
Artists
Friday: Annabelle's Curse.
Saturday: Big Daddy Love, Time Sawyer, Luke Mears, Cereus Bright, Matt Phillips and the Philharmonic, Robert Holthouser.
Festival site: Elkin's Hidden Amphitheater and Liberty Reception Hall

View Larger Map
Friday's kickoff concert at Liberty 8 p.m.; Saturday 2 p.m.

Two Day Pass: $30 until May 31, $35 until June 30, $40 until July 17, $45 afterward.
Friday: $10 until May 31, $15 until June 30, $17 until July 17, $20 afterward.
Saturday: $15 until May 31, $20 until June 30, $25 until July 17, $30 afterward.
August 8 - 9 Fines Creek Bluegrass Jam - Clyde
The Bluegrass Jam is the Fines Creek Community Association's primary fundraiser, helping it to support college scholarships. The family-oriented festival showcases local musical groups and clogging teams on an outdoor stage.
Artists
Friday: Eddie Rose and Highway 40, Whitewater Bluegrass Company, Mountain Faith, Fines Creek Flatfooters.
Saturday: Balsam Range, Dismembered Tennesseans, Buncombe Turnpike, Barefoot Nellie and Co., Green Valley Cloggers.
Festival site: Old Fines Creek School

View Larger Map
5 to 11 p.m. Friday, 3 to 11 p.m. Saturday.

Two-day pass: $25
One-day pass: $15
Ages 16 - 18: $15 both nights, $10 one night; younger free with an adult.

Food concessions will be available.
August 8 - 9 Ola Belle Reed Music Festival - Lansing
The three-day celebration named for the acclaimed singer-songwriter presents bands from the Americana, bluegrass, old-time, country and folk traditions. There are also instrumental, songwriting and voice workshops, an outdoor jam tent, a craft market, food court and more.
Artists
Friday: Melissa Reaves Band, Whitetop Mountain Band, The Amigos Band, Time Sawyer, Sheets Family Band, Rock Bottom Bluegrass Band.
Saturday: The Harris Brothers, Plus David Reed and Dr. Dan Boner, Jerry McCoury with Terry Baucom and Friends, The Troubadors, The VW Boys, The Elkville String Band with Wayne Henderson, Big Country Bluegrass, Ashe Breeze Band, Crooked Road Ramblers.
Festival site: Lansing Creeper Trail Park

View Larger Map
Starts 5 p.m. Friday, noon Saturday.

The festival is free; a $5 donation is suggested.

Primitive tent camping onsite: $10 per night donation requested.
RVs at American Legion field 1.5 miles from festival, with water and "some" electricity: $35 per night.
August 14 - 16 N.C. State Bluegrass Festival - Marion
Adams and Anderson, LLC of Dahlonega, Georgia, presents several family-oriented bluegrass festivals around the Southeast. This show, an outdoor festival in the campground under a pavilion, is in its 40th year in 2014. Bands typically play afternoon and evening sets, though headliners may just play evening shows.
Artists
Thursday: Gene Watson and the Farewell Party Band (with special guest Rhonda Vincent), Rhonda Vincent and the Rage, Russell Moore and IIIrd Tyme Out, Dry Branch Fire Squad, The Marksmen, Joe Mullins and the Radio Ramblers.
Friday: Nothin' Fancy, Seldom Scene, The Gibson Brothers, Goldwing Express, The Primitive Quartet, Appalachian Express.
Saturday: Dailey and Vincent, Jimmy Fortune, The Moron Brothers, The Little Roy and Lizzy Show, Tony Holt and the Wildwood Valley Boys, Cody Shuler and Pine Mountain Railroad.
Festival site: Tom Johnson Camping Center Rally Park

View Larger Map
Noon to 10 p.m. (open stage at 11 a.m.)

Three-day pass: $75 in advance, $85 at gate; ages 6 to 13, $40 in advance, $45 at gate.
Daily: $30 in advance, $35 at gate; ages 6 to 13 $15.

Ages 5 and younger free with an adult.

Campground stay during the festival requires a three-day ticket.
August 14 - 16 Soulshine Farm Music Festival - Green Mountain
The festival debuts in 2014 with hopes of becoming a perennial gathering of mountain folk enjoying the old and new mountain ways. The weekend is to include music, hiking, camping and workshops on topics ranging from songwriting and contra dancing to an edible plants hike, sacred geometry and sword battle.
Artists
The Larry Keel Experience, Mac Arnold and Plate Full O' Blues, The Jeff Sipe Trio, The Applebutter Express, Jahman Brahman, Phuncle Sam, The Family, Brushfire Stankgrass, Good Graeff, Displace, Sanctum Sully, Electric Soul Pandemic, Electrochemical, Makayan, Screamin Jerry Leeman, Sugar Daddy, Ali Randolph and the Outta Luck Band, Franklin's Kite, Snaggy Mountain, Terina Plyler, Kendra Warren, Awake in the Dream, BiiG PoppA and Friends, The Burning Houses.
Festival site: Sunshine Organic Farm

View Larger Map
Thursday: free.
Weekend pass: $55 in advance, $75 at gate; $30 age 13 to 17, free younger than 13.
Daily: $45.


Car camping: $25.
RV camping: $30.
Primitive walk-in camping is free.
August 21 - 23 Clear Mountain View Music Festival - Polkville / Lawndale
| | |
| --- | --- |
| The festival debuted in 2012 on a fourth-generation family farm offering agri-tourism and, for the festival, a weekend full of music on two stages, plus camping, vendors, a sugar cane field sculpture, and more. Clear Mountain View is at the same venue and put on by the same organization that presents Five String Fest. Click on the photo for more information. | |
Artists
Hackensaw Boys, Big Daddy Love, Yarn, Sol Driven Train, Corbitt Brothers, Dirty Grass Soul, L Shape Lot, Shannon Whitworth, The Howlin Brothers, Josh Daniels and Mark Schmitt Project, The Packway Handle Band, Oak Grove String Band, Unspoken Tradition, The Moore Brothers, Chuck Johnson, Ranford Almond, Carson Hill, Lily Tallent, the Ya Yas, Tom Givins and The Sugar Shack.
Festival site: Elliott Family Farms

View Larger Map

Four-day pass: $95.
Friday: $30
Saturday: $50
Sunday: $20.
VIP four-day pass: $200, includes VIP parking, backstage passes, shuttle between stages, seats in tents, drinks, snacks, souvenirs, etc.

Camping (primitive): tents free with four-day pass; RVs $5.
August 28 - 31 Mantrabash Music & Art Festival - Ferguson
Mantrabash presents national and North Carolina regional bands on two stages, plus arts and crafts, and food vendors. Only 1,000 tickets will be sold. A portion of proceeds are to go to a non-profit organization to be named.
Artists
The Mantras (hosts), Snarky Puppy, Big Something, Consider the Source, Big Something, Pigeons Playing Ping Pong, Ghost Owl, Electric Soul Pandemic, Tauk, Imperial Blend, Aqueous, Nomadic, Mister F, Tree House, The Family, Jahman Brahman, Donnie Dies, Yesterday's Gravy, Mac and Juice Quartet, Duk Tan, The Hornitz, The Deluge, Key, Dr. Bacon, Signal Fire, Coddle Creek, Blue Food, Psylo Joe, Hi Rollers, Knitebitch, Fikus, Cocktail Party Phenomenon.
Festival site: High Country Motorcycle Camp

View Larger Map
General Admission (three-day pass): $100.
VIP (meet-and-greet with artists, souvenirs, private access shower and restrooms, more): $150.
Thursday pre-party: $10 in advance, $20 at gate.


Must be 18 years old or older to attend unless accompanied by an adult; younger than 12 free.

Free tent camping with ticket; RVs $125; car camping only with VIP ticket.
August 28 - 31 Happy Valley Old-Time Fiddlers' Convention - Lenoir
At the resting place of Tom Dooley's lamented victim, Laura Foster, musicians and music lovers gather to pay homage to the legends and stories of the Yadkin River Valley with a community dance, a daylong competition for old time and bluegrass bands, and Sunday band performances, plus children's activities, historic information, storytelling, hay rides, a duck derby race, food vendors and more.
Artists
Friday: Stuart Brothers, Dan and Christy Foster, The Sound Check Band,.
Saturday: Music competitions and special activities.
Sunday: The Kruger Brothers, The Neighbors, Laura Boosinger, Zephyr Lightening Bolts, Zoe and Cloyd (Red June), Fiddling Tim Smith and Eric Ellis, Strictly Clean and Decent, Harris Brothers; The Wayne Henderson Guitar Extravaganza, featuring Wayne Henderson, Uwe Kruger, Steve Lewis, Steve Kilby, Reggie Harris, and Zeb Snyder.
Festival site: Jones Farm

View Larger Map
The festival's Web site provides directions and a map to the private farm hosting the festival.

Friday: Community dance 7 to 11 p.m.
Saturday: Individual musician competitions 10 a.m. to 3 p.m., band competitions 3 to 6 p.m., finalists in all categories compete for top honors 7 to 11 p.m.
Sunday: 10 a.m. to 4 p.m.

Friday: free.
Saturday and Sunday: $10.

Camping: $10 per night, no hookups.
August 29 - 30 Smoky Mountain Folk Festival - Lake Junaluska
The festival presents traditional Southern Appalachian music and dance by regional fiddlers, banjo players, string bands, ballad singers, buck dancers and square dance teams, as well as the sounds of dulcimer, harmonica, jew's harp, bagpipes, spoons, saws and folk ensembles of all sorts. (See the Lake Junalaska link below; the festival website is slow to update each year.)

Artists
Friday: Cockman Family, Brooke and George Bunker, Stoney Creek Boys, Dixie Darlin's, Phil and Gaye Johnson, Mack Snoderly and Flave Hart, Folk Heritage Smooth Dancers, Bailey Mountain Cloggers, Fines Creek Flatfooters, more TBA.
Saturday: Cockman Family, Mack Snoderly and Flave Hart, The NickPickers, Appalachian Mountaineers, Rob and Anne Lough, Helena Hunt and Tracy Best, Southern Mountain Fire, Fines Creek Flatfooters, The Southern Appalachian Cloggers, Stoney Creek Cloggers, Southern Mountain Fire Smooth Dancers, more TBA.
Festival site: Stuart Auditorium, Lake Junaluska Conference and Retreat Center

View Larger Map
6:30 p.m. to midnight.

Festival performers play loose jams in tents next to Stuart Auditorium between 5:30 and 6:30 p.m.

Single-day pass: $10 in advance, $12 at door.

Lake Junaluska offers special lodging packages (at the link above).
August 29 - 31 Labor Day Family Bluegrass Festival - Garner
The festival is hosted by the recently opened coffee house run by bluegrass musician and band leader Lorraine Jordan.
Artists
Friday: The Grascals, Victoria Lee and New Ground
Saturday: Junior Sisk and Rambler's Choice; Nixon, Blevins and Gage.
Sunday: Marty Rabon and Full Circle, Al Batten and the Bluegrass Reunion.
Festival site: Lorraine Jordan' Coffee House and Music

View Larger Map
7:30 p.m. Friday and Saturday, 2 p.m. Sunday.

$20 in advance; $25 at door.
Only 90 tickets will be sold.
August 30 John Coltrane International Jazz and Blues Festival - High Point
The festival, begun in 2011, is sponsored by The Friends of John Coltrane, which works to preserve and celebrate the life and music of John Coltrane and to enrich the lives of others through the introduction of jazz and other musical genres.
Artists
George Benson, Boney James, Morgan James, Andreas Varady, Latimore.
Festival site: Festival Park

View Larger Map
Gates open at noon.

$60 in advance; $70 at gate.
VIP (parking, reserved up-front seats, tent with food and drinks): $100.
August 30 God of Second Chances Music Festival - Cherryville
The gospel festival debuted in 2013, replacing a bluegrass battle of the bands on the Catawba Valley Music Revival schedule. In addition to music, festivities include corn hole and ladder ball games for kids, and home-cooked food concessions.
Artists
Michael Combs, Leon Everette and the Faith Riders, The Pioneers, Plains View Worship Band, The Boyz (Three16Band), Heartstrings of Fairview.
Festival site: Private Farm on Coot Williams Road

View Larger Map
Gates open 9 a.m., music begins at noon.

$10 in advance, $15 at gate; younger than 13 free.
Group sales: two free tickets with purchase of 10.

Free parking and camping (bathhouse on-site).

No alcohol.
August 30 WhoDat Festival - Greensboro
The volunteer-run, non-commercial celebration of North Carolina artists and musicians debuted in 2012. In addition to electric and acoustic stages, the festival offers inclusive art projects, skill shares, open mics, jam sessions, art and food vendors and more, including a beard and mustache competition by the N.C. Beard and Mustache Club.
Artists
Mipso, Quilla, The Bronzed Chorus, The Leeves, Tab-One of Kooley High and DJ Gonzo, Chocolate Suede.
Acoustic Stage: Alan Barnosky, Wes Collins, Mike Gaffney, Chris Smith, Laura Jane Vincent, Rufus Webster.
Festival site: Doodad Farm

View Larger Map
Gates open and open mic performances begin at 11 a.m.

Suggested donation of $15 to $30 goes totally to bands playing the festival.

Camping onsite.
August 30 - 31 ProgDay - Chapel Hill
| | |
| --- | --- |
| The intimate festival of progressive rock music in its 20th year in 2014 features artists from all over the world. The festival embraces a Friday night pre-show at Local 506 in Chapel Hill. Click on the photo for more information. | |
Artists
Friday: Triplicity, The MPS Project, Jonn Buzby.
Saturday: Sensations' Fix, The Galactic Cowboy Orchestra, Kotebel, Zombie Frogs.
Sunday: Alex Carpani Band with David Jackson, Travis Larson Band, Necromonkey, Backhand.
Festival site: Storybrook Farm (map), Local 506

View Larger Map
Music starts 8 p.m. Friday, 10:30 a.m. Saturday and Sunday.

Weekend (Saturday and Sunday) pass $100, daily $60; patron pass for $140 includes preferred parking.
Younger than 16 free, ages 16 to 18 half off.
Friday pre-show: $10.

No overnight camping.
August 31 New River Blues Festival - Grassy Creek
A Sunday afternoon in the mountains with acclaimed artists performing in a picturesque setting on the banks of the New River. The King Bees are the festival hosts.
Artists
Johnny Neel, Charlie Sayles and Tony Fazio, Pat "Mother Blues" Cohen, Boo Hanks, The King Bees.
Festival site: River House Country Inn

View Larger Map
1 to 6 p.m.; gates open at noon.

$15 in advance, $18 at gate; younger than 12 free.

Food, beer and wine will be on sale.

No camping onsite; camping nearby at New River State Park.
Return to Carolina Music Festivals' home page
Go to September Music Festivals or to July Music Festivals
Visit Our Sister Sites
Carolina Outdoors Guide
This Land, Your Land
The Medium, The Message
---