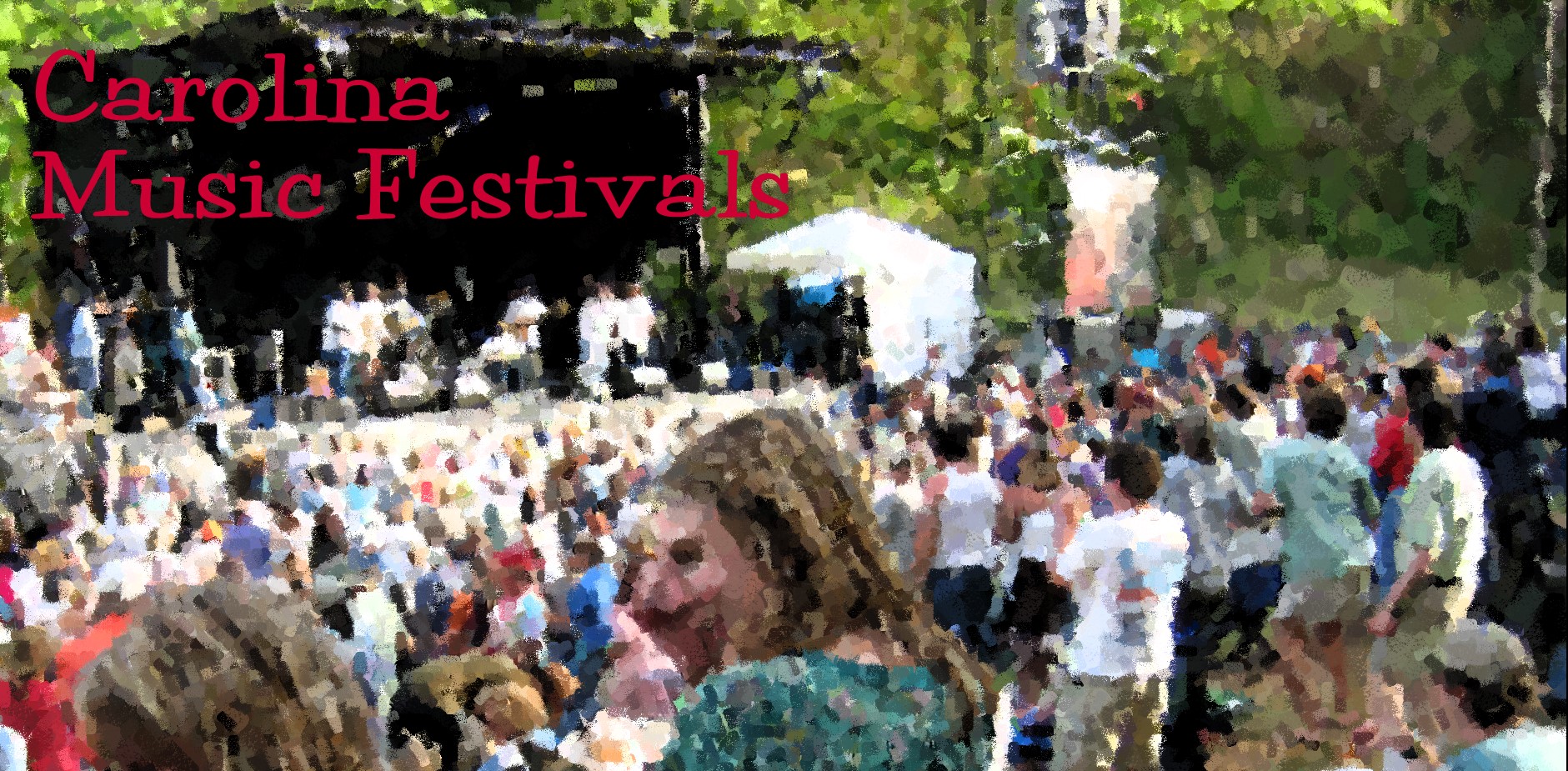 Carolina Music Festivals is a comprehensive calendar and guide to multi-act, daylong or multiple-day music shows in North Carolina.
August 2015
Dates may be estimated based on last year's festival until confirmed by festival organizers.
Through August 1 Eastern Music Festival - Greensboro
(See the June calendar)
Through August 2 Brevard Summer Institute & Festival - Brevard
(See the June calendar)
July 30 - August 1 PreddyFest Bluegrass Festival - Franklinton

What was originally a weekend get-together of friends and pickers has evolved into a three-day family event on the Tar River that is in its 18th year in 2015. Band typically play afternoon and evening sets.
Artists
Thursday: Sourwood Mountain Bluegrass Band, Highway 58, Carolina Blue.
Friday: Malpass Brothers, Al Batten and Bluegrass Reunion, Constant Change, Lawson Creek Grass.
Saturday: Joe Mullins and The Radio Ramblers, Darin and Brooke Aldridge, Flatt Lonesome, Mountain Faith.
Festival site: Green Hill Road

View Larger Map
5 to 11 p.m. Thursday, 2 to 11 p.m. Friday, noon to 11 p.m. Saturday.

Three-day pass: $50 in advance, $60 at gate; Thursday $20; Friday $25; Saturday $25.
Younger than 14 free.

Camping is included with a ticket. Hot showers are available, but no hookups.
July 31 - August 1 Reevestock Music Festival - Elkin
The festival was started by local folk-rock band Time Sawyer to raise money for restoration of the Reeves Theater in Elkin, and continues as a broader benefit to the community. It includes music for all ages on two stages, food and drinks, and activities for the kids. It is in its 5th year in 2015.
Artists
Friday: Steelism, Luke Mears.
Saturday: The Black Lillies, Andrew Combs, Time Sawyer, Sinners and Saints, Caroline Spence, Clint Roberts.
Festival site: Elkin's Hidden Amphitheater and Liberty Reception Hall

View Larger Map
Friday's kickoff concert at Liberty 7 p.m.; Saturday 2 p.m.

Two Day Pass: $30 until May 31, $35 until June 30, $40 until July 17, $45 afterward.
Friday: $10 until May 31, $15 until June 30, $17 until July 17, $20 afterward.
Saturday: $15 until May 31, $20 until June 30, $25 until July 17, $30 afterward.
August 6 - 8 Mountain Dance and Folk Festival - Asheville
Since 1928, the Mountain Dance and Folk Festival has presented a wide repertoire from old-timers as well as the newest generation of mountain musicians, dancers and cloggers whose performances echo centuries of Scottish, English, Irish, Cherokee and African heritage. The festival also designates "Legacy Performers" who have made significant contributions to the region's musical heritage over several decades.
Artists
TBA. 2014 lineup included Ed Herron, Grey Eagle - Stoney Creek Boys, Betty Smith, Peg Twisters, Maggie Lauterer and Zac Allen, and about 20 more.
Festival site: Diana Wortham Theatre

View Larger Map
7 to 10 p.m.

Three-day pass: $54, younger than 13 $24.
Nightly: $20, younger than 13 $10.
August 6 - 8 Soulshine Farm Music Festival - Green Mountain
The festival debuted in 2014 with hopes of becoming a perennial gathering of mountain folk enjoying the old and new mountain ways. The weekend is to include music, hiking, camping and workshops on topics ranging from songwriting and contra dancing to an edible plants hike, sacred geometry and sword battle.
Artists
Toubab Krewe, Zach Deputy, Snake Oil Medicine Show, Mac Arnold and Plate Full o' Blues, The Giving Tree Band, Come Back Alice, The Applebutter Express, Nikki Talley, Jon Stickley Trio, Brushfire Stankgrass, Displace, Phuncle Sam, Mountain Feist, Screaming Js, Franklin's Kite, Ali Randolph and the Outta Luck Band, Awake In The Dream, Bruckshot, more TBA.
Festival site: Sunshine Organic Farm

View Larger Map
Thursday: free.
Weekend pass: $55 in advance, $75 at gate; $30 age 13 to 17, free younger than 13.
Daily: $45.


Car camping: $25.
RV camping: $30.
Primitive walk-in camping is free.
August 7 - 8 Fines Creek Bluegrass Jam - Clyde
The Bluegrass Jam is the Fines Creek Community Association's primary fundraiser, helping it to support college scholarships. The family-oriented festival showcases local musical groups and clogging teams on an outdoor stage.
Artists
TBA. 2014 lineup included Balsam Range, Eddie Rose and Highway 40, Whitewater Bluegrass Company and four more.
Festival site: Old Fines Creek School

View Larger Map
5 to 11 p.m. Friday, 3 to 11 p.m. Saturday.

Two-day pass: $25
One-day pass: $15
Ages 16 - 18: $15 both nights, $10 one night; younger free with an adult.

Food concessions will be available.
August 7 - 8 Ola Belle Reed Music Festival - Lansing
The celebration named for the acclaimed singer-songwriter presents bands from the Americana, bluegrass, old-time, country and folk traditions. There are also instrumental, songwriting and voice workshops, an outdoor jam tent, a craft market, food court and more.
Artists
Terry Baucom and the Dukes of Drive, Wayne Henderson, David Reed, Crooked Road Ramblers, Cindy Fink and Marcy Marxer, Whitetop Mountain Band, Sheets Family Band, Molly Andrews.
Festival site: Lansing Creeper Trail Park

View Larger Map
Starts 5 p.m. Friday, noon Saturday.

The festival is free; a $5 donation is suggested.

Primitive tent camping onsite: $10 per night donation requested.
RVs at American Legion field 1.5 miles from festival, with water and "some" electricity: $35 per night.
August 13 - 15 N.C. State Bluegrass Festival - Marion
This campground-based festival is in its 41st year in 2015. Bands typically play afternoon and evening sets, though headliners may just play evening shows.
Artists
Thursday: Del McCoury Band, The Grascals, Michael Cleveland and Flamekeeper, James King Band, Adkins and Loudermilk, Dry Branch Fire Squad.
Friday: Gene Watson and the Farewell Party Band, Rhonda Vincent and the Rage, Doyle Lawson and Quicksilver, Blasam Range, The Primitive Quartet, Monroe Crossing, Goldwing Express.
Saturday: Dailey and Vincent, Jimmy Fortune with Dailey and Vincent, The Little Roy and Lizzie Show, The Moron Brothers, Big Country Bluegrass.
Festival site: Tom Johnson Camping Center Rally Park

View Larger Map
Noon to 10 p.m. (open stage at 11 a.m.)

Three-day pass: $90 in advance, $95 at gate; ages 7 to 13, $45 in advance, $50 at gate.
Daily: $40 in advance, $45 at gate; ages 7 to 13 $15.
Younger than 7 free with an adult.

Campground stay during the festival requires a three-day ticket.
August 15 WhoDat Festival - Greensboro
The volunteer-run, non-commercial festival celebrates North Carolina artists and musicians debuted. In addition to electric and acoustic stages, the festival offers inclusive art projects, skill shares, open mics, jam sessions, art and food vendors and more, including a beard and mustache competition by the N.C. Beard and Mustache Club. The 2014 show was in early September.
Artists
TBA. 2014 lineup included Mipso, Quilla, The Bronzed Chorus, The Leeves and eight more.
Festival site: Doodad Farm

View Larger Map
Gates open and open mic performances begin at 11 a.m.

Suggested donation of $15 to $30 goes totally to bands playing the festival.

Camping onsite.
August 27 - 29 Clear Mountain View Music Festival - Polkville / Lawndale
| | |
| --- | --- |
| The festival offers a weekend full of music on two stages, plus camping, vendors, a sugar cane field sculpture, on a fourth-generation family farm. It is in its fourth year in 2015. Click on the photo for more information. | |
Artists
Larry Keel Experience, Big Daddy Love, Dangermuffin, Simplified, Dirty Grass Soul, The Corbitt Brothers, L Shape Lot, The Josh Daniel / Mark Schimick Project, Isaac Haze Band, The Ya Yas, Roger Padgett.
Festival site: Elliott Family Farms

View Larger Map

Four-day pass: $95.
Friday: $30
Saturday: $50
Sunday: $20.
VIP four-day pass: $200, includes VIP parking, backstage passes, shuttle between stages, seats in tents, drinks, snacks, souvenirs, etc.

Camping (primitive): tents free with four-day pass; RVs $5.
August 28 - 29 American Roots Bluegrass Festival - Greensboro
An event planner / musician and her journalist assistant established the festival in 2014 as a one-day October show. In addition to traditional and modern bluegrass and musicians' workshops, vendors offer food, crafts and merchandise.
Artists
Terry Baucom's Dukes of Drive, The Smith Family and The Southbound Pickers, BackPorch Bluegrass, Mountain Rain, Rich in Tradition.
Festival site: Groome Inn

View Larger Map
Workshops 8 to 10 a.m., music 10 a.m. to 6 p.m.

$15 advance, $20 at door.
VIP (early admission for workshps, t-shirt, goodie bag): $30 advance, $35 at door.
Age 5 to 13: $10 advance, $15 at door.
Younger than 5 free with adult.


Return to Carolina Music Festivals' home page.




Go to July Music Festivals // Go to September Music Festivals


Visit Our Sister Sites
Carolina Outdoors Guide // This Land, Your Land

PC Nelson Communications // The Medium, The Message


---