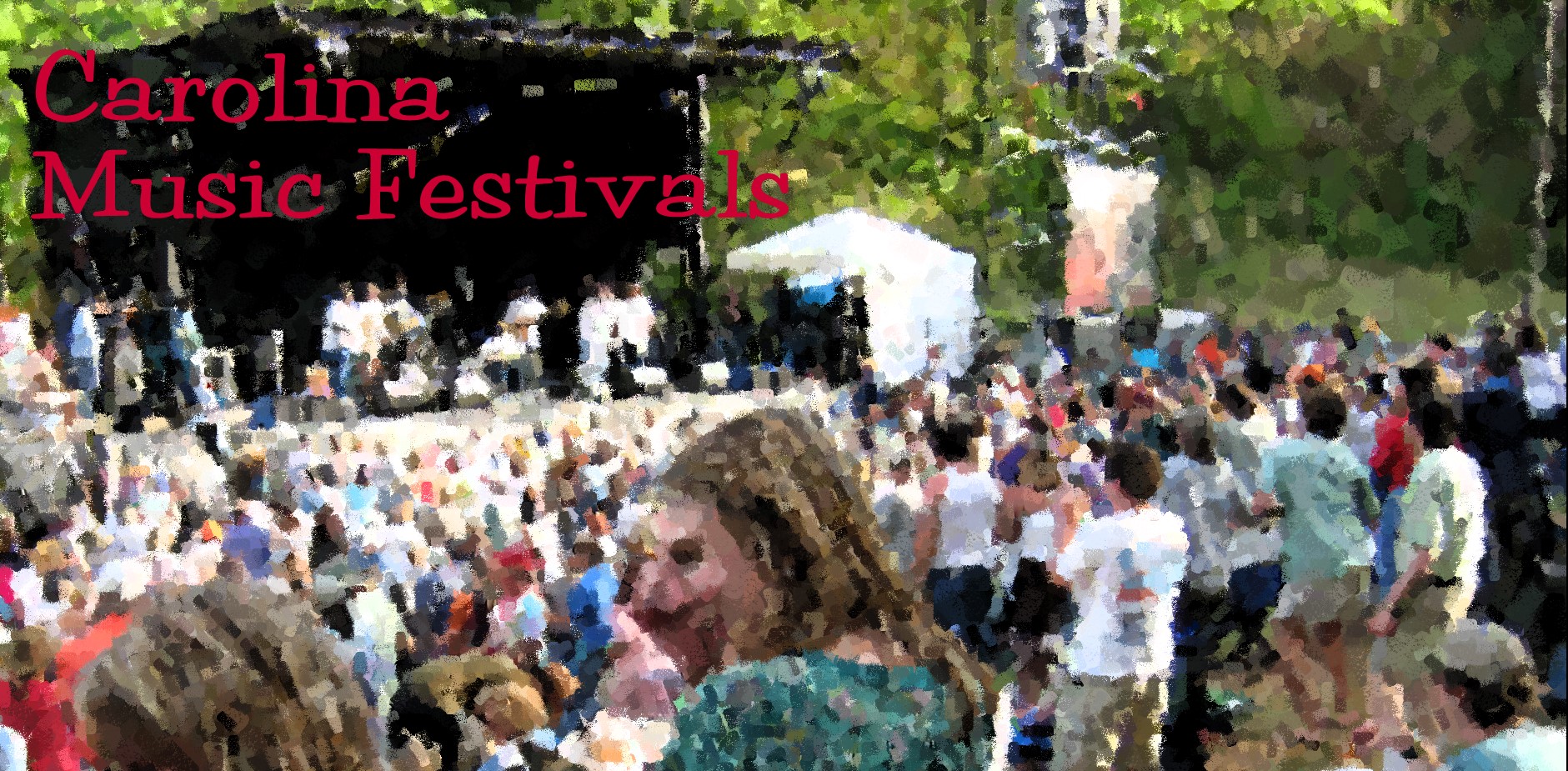 Carolina Music Festivals is a comprehensive calendar and guide to multi-act, daylong or multiple-day music festivals in North Carolina.
September 2014
Dates may be estimated based on last year's festival until confirmed by festival organizers.
September 4 - 6 Hopscotch - Raleigh
Hopscotch, put on by The Independent Weekly of Durham, presents more than 175 national and international bands from rock, hip-hop, alt-country, heavy metal, dance, punk, classical, noise, drone, folk and more at 15 downtown venues. The festival also presents bands at more than 30 day parties happening throughout the city.
Artists
Spoon, St. Vincent, Mastodon, De La Soul, The War on Drugs, Sun Kil Moon, Jamie xx, Death, High on Fire, Thurston Moore, Phosphorescent (solo), IIII, FREEMAN, How to Dress Well, Lunice, The Haxan Cloak, White Lung, clipping., Reigning Sound, Tony Conrad, The Range, Sun Araw, Power Trip, Mutual Benefit, Mas Ysa, 6 String Drag, Prince Rama, What Cheer? Brigade, Jacuzzi Boys, American Aquarium, Nguzunguzu, Deniro Farrar, Mark McGuire, Mapei, Ka, Dent May, Diarrhea Planet, Jason Lescalleet, Ava Luna, The White Octave, Reptar, Nik Turner's Hawkwind, GEMS, Witch Mountain, SubRosa, Vaadat Charigim, KEN Mode, YVETTE, Potty Mouth, Valient Thorr, Landlady, MV & EE, Open Mike Eagle, Avers, Celestial Shore, Ed Schrader's Music Beat, Ryley Walker, Obnox, Lee Noble, Zomes, TOW3RS, Author & Punisher, Eagulls, Helm, Slim Twig, Palehound, Lonnie Walker, Guerilla Toss, Saint Rich, New Madrid, Matt Kivel, Circuit des Yeux, Krill, Marley Carroll, Artificial Brain, Loamlands, Weyes Blood, Screature, Coke Weed, Axxa/Abraxas, Flesh Wounds, New Music Raleigh Presents: Future Shock, Toon & The Real Laww, Dead Gaze, Wing Dam, The Tills, White Laces, The Nervous Ticks, Joe Scudda, Naked Gods, Solar Halos, White Life, Dark Rooms, Last Year's Men, Body Games, WELL$, Alexandra Sauser-Monnig, SoftSpot, Sun Club, Davidians, Soft Cat, Wild Fur, Zack Mexico, Museum Mouth, Sinners and Saints, Enemy Waves, First Person Plural, Paperhaus, Blanko Basnet, Holygrailers, Nest Egg, blursome, COLOSSUS, See Gulls, Y'ALL, Crowdsource, Wowolfol, Spclgst and Nicky Bagz, Cousins, Canine Heart Sounds, Matt Northrup, No Love, Ghostt Bllonde, Deep Sleeper, Demon Eye, PRIMOVANHALEN, Other Colors, Octopus Jones, Drag Sounds, Free Clinic, Judy Barnes, No Eyes, Strange Faces, Winston Facials, Madison Jay, Bedowyn, Wailin' Storms, FUNKSS, Young Cardinals, Tim Hecker.
Festival site: City Plaza, Fletcher Opera Theater and several clubs downtown.

View Larger Map
Multi-day Hopscotch tickets go on sale early in the year. As groups of "early bird" tickets sell out, the price rises. Prices include all taxes and fees.
Three-day pass: $95 "very limited," $105 "a larger batch"; $125 regular.
Three-day VIP pass: $180.
Daily all-access (on sale in June): $65 Thursday, $85 Friday and Saturday.
City Plaza shows (on sale in June): $40.

September 4 - 6 Catawba Valley Music Revival Music Fest - Cherryville
Catawba Valley Music Revival Inc. works to preserve and promote live music in the Unifour and surrounding areas of North and South Carolina by making sure it can be heard, appreciated and celebrated in a family-friendly environment.
Artists
Thursday: Blu Granite, open jam.
Friday: The Outliers, Nu-Blu, The Harris Brothers, The Griggs.
Saturday: The Roys, The Hurleys, Most Wanted Bluegrass, Gentlemen of Bluegrass.
Festival site: Private Farm on Coot Williams Road

View Larger Map
Music starts 6 p.m. Thursday, 1 p.m. Friday and Saturday; headliners on at 8 p.m. Friday and Saturday. Some bands play two sets.

Three-day pass: $35 in advance, $45 at gate.
Daily: $20 in advance; $25 at gate.
Younger than 13 free.

Free camping with showers available.
September 5 - 6 Bull Durham Blues Festival - Durham
The Bull Durham festival has changed repeatedly over its 25-plus years, but for 2014 returns to its usual format of presenting blues and R&B acts in an auditorium show Friday night followed by an outdoor festival at the historic baseball park on Saturday. Food and craft vendors also join the outdoor show.
Artists
Friday: John Dee Holeman, The Campbell Brothers, Phil Cook, The Rousters.
Saturday: Kermit Ruffins, Shemekia Copeland, Grady Champion, The Ori Naftaly Band, The Calvin Edwards Trio, The Red Dirt Revelators, Rick Tobey.
Festival site: St. Joseph's Performance Hall, Durham Athletic Park (map)

View Larger Map
Doors open 5 p.m., music at 6 (both days).

Friday: $35 in advance, $40 at door.
Saturday: $45 in advance, $50 at gate.
September 6 In The Pines Bluegrass Festival - Goldsboro
The nonprofit North Carolina Bluegrass Association announced the inaugural In the Pines Bluegrass Festival in 2014, promising great music, exciting raffles, vendors, and more in an alcohol-free, family-friendly environment.
Artists
Wayne Taylor and Appaloosa, Nu-Blu, Al Batten and the Bluegrass Reunion, Samantha Casey and the Bluegrass Jam, The Grass Strings, Carolina Tradition.
Festival site: Waynesborough Park
10 a.m. to 7 p.m. Some bands are to play two sets.

$20 in advance, $25 at gate.
Younger than 12 free.
September 12 - 13 Music Fest at Blue Bear Mountain - Todd
The campground opened in 2013 near Boone and presented its first festival with local and regional performers. The show features side-by-side stages, resulting in less of a gap between sets, and will limit attendance to 500 people, the website says.
Artists
Yo Mama's Big Fat Booty Band, Jeff Little Band with Steve Lewis and Josh Scott, The Carter Brothers Band, The Harris Brothers Band, Charleyhorse, Lost Ridge Band, Melissa Reaves, Dr. Bacon.
Festival site: Blue Bear Mountain Campground

View Larger Map
Two Day Pass: $55 in advance, $60 at gate.
Friday: $25 in advance, $30 at gate.
Saturday: $35 in advance, $40 at gate. Younger than 13 free.

Camping: (tents, pop-ups, small campers, and RVs): $90 per person, includes two-day festival pass, Thursday-Saturday night camping and a band playing Thursday night.

September 12 - 13 Mountain Song Festival - Brevard
Proceeds of the Brevard Music Center show hosted by Steep Canyon Rangers benefit the Boys & Girls Club of Transylvania County.
Artists
Friday: Steep Canyon Rangers, Della Mae, Kruger Brothers.
Saturday: Steep Canyon Rangers with Sam Bush, Noam Pikelny and Stuart Duncan, Seldom Scene, Shannon Whitworth, Chatham County Line.
Festival site: Whittington-Pfohl Auditorium, Brevard Music Center

View Larger Map
Gates open 4 p.m. Friday, noon Saturday.

Two-day pass: $80; Friday $40, Saturday $47.50.
General admission seating; Children younger than 10 free on lawn or on lap of paying adult in auditorium.

September 13 Charlotte Sunset Jazz Festival - Charlotte
The free festival presents a nationally known and local smooth jazz acts.
Artists
Adrian Crutchfield, Kenneth Carr and the Tigers, Los Trabucos, Charlotte Jazz Orchestra, Robyn Springer.
Festival site: Symphony Park
September 13 Farm Aid 2014 - Raleigh
Farm Aid, the longest running benefit concert series in America, raises money to help family farmers. In addition to musical artists from a variety of genres, the day-long festival will present family farm-identified, local and organic foods and the chance to meet farmers, engage in hands-on food and farm activities, and learn about the ways family farmers.
Artists
Willie Nelson and Family, Neil Young, John Mellencamp, Dave Matthews and Tim Reynolds, Jack White, Gary Clark Jr., Jamey Johnson, Preservation Hall Jazz Band, Delta Rae, Lukas Nelson and Promise of the Real, Carlene Carter, Todd Snider, Insects vs Robots, Raelyn Nelson Band, Jesse Lenat.
Festival site: Walnut Creek Amphitheatre

View Larger Map
Noon to 11 p.m.

$49 to $175.
VIP: $400 to $750 (website has email contact for info).
September 13 - 14 Stokes Stomp Festival on the Dan - Danbury
The Stokes Stomp Festival on the Dan presents a couple of well-known headliners and local acts, plus a children's music stage, along with dance, a parade, arts and crafts and other activities in a park on the Dan River. The festival, which is put on by the Stokes County Arts Council, is in its 40th year in 2014.
Artists
Saturday: Lonesome River Band, Blues Creek, Loose Cannons, Star Catchers, Jordan Covington, and more.
Sunday: John Cowan, John McFee and Friends; Rich in Tradition, Back Step Old Time Band, David Via, and more.
Festival site: Moratock Park

View Larger Map
9:30 a.m. to 7:30 p.m Saturday, parade at 10 a.m.; 11 a.m. to 6:30 p.m. Sunday.

Daily: $50
VIP pass (limited number, includes front row seat, backstage pass, parking, food and drink, souvenirs): $85 per day.

Parking at Moratock Park: $10 (limited number)
Shuttle service from Stokes County Government Center (1014 Main Street) and Hilltop Market Tubing parking area (1039 NC 8 and 89 South) near the intersection of Sheppard Mill Road. Here's more parking info.
September 18 - 20 Hoppin' John Old-Time and Bluegrass Fiddlers' Convention - Silk Hope
Shakori Hills hosts competitions that award cash prizes in Old Time Fiddle, Bluegrass Fiddle, Old Time Banjo, Bluegrass Banjo, Guitar, Mandolin, Folk Song, Bass, Youth Musicianship, Dance and Youth Dance categories. There are also square dances, musicians' workshops, a hoppin' john cookoff, and arts and crafts, musical instrument and food vendors.
Artists
Five Points Rounders, Berlicoco, The Hoppin' Johnnies, Erynn Marshall, Cary Fridley, Carl Jones and Erynn Marshall, Green Grass Cloggers, competitors and more.
Festival site: Shakori Hills

View Larger Map
7 p.m. Thursday, 3 p.m. Friday, 11 a.m. Saturday.

Three-day pass: $22 in advance, $26 at gate; competitors $18 in advance, $20 at gate.
Thursday $6, Friday $8, Saturday $12.

Competitions and/or dances take place on the Grove Stage and in the Dance Tent (see our Shakori Hills Grassroots Festival of Music & Dance page).

Camping: one vehicle and up to two tents $18 in advance, $20 at gate; RVs $26 in advance, $30 at gate; 110 volt electric hookup $15 (limited number). Outdoor hot showers available. Early camping available.
September 18 - 20 Dailey Vincent Land Fest - Denton
The popular bluegrass band Dailey and Vincent started their own festival in 2013. It includes a band contest with cash prizes and stage time for winners.
Artists
Thursday: Rhonda Vincent and the Rage, Darrell Webb Band, Primitive Quartet, Bethel College Bluegrass Band.
Friday: Gene Watson, Dailey and Vincent, Terry Baucom and the Dukes of Drive, Joe Mullins & The Radio Ramblers, Bobby Osborne and The Rocky Top X-Press.
Saturday: Dailey and Vincent, The Steel Drivers; Lou Reid, Terry Baucom, Jamie Dailey and Barry Scott; Carl Hurley, Lou Reid and Carolina, The Whites, band contest winner.
Festival site: Denton Farm Park

View Larger Map
Three-day pass: $130 reserved, $110 general admission; age 15 to 17 $67.50 reserved, $57.50 general admission.
Two-day pass: $80 general admission; age 15 to 17 $37.50 general admission.
One-day pass: $45 general admission; age 15 to 17 $25 general admission.
Younger than 15 free general admission with paying adult.

Tent camping with one vehicle is free with two-day pass, See the website for RV pricing.
September 19 - 21 Smiling Frog Music and Art Festival - Snow Camp
The weekend hosted by JuJuGuru (and previously known as Camp JuJu) is to include music, Khmer dancers, stand-up comedian, food vendors, a bonfire and camping.
Artists
Abe Reid and the Spikedrivers, Jive Mother Mary, Carri Smithey Band, Darkwater Redemption, JuJuGuru, Hey! Alligator, Nathan Arizona and the New Mexicans, Yesterday's Gravy, Them Damn Bruners, Drew Foust and The Slim Pickins, Hair of the Dog with Hey! Alligator Horns, Lee Thompson and Friends, Old Man Noize, Mir Dub Allstars, Tony Natalizio, J9, Lynn Bullis, Less than Nothing, The Ends.
Festival site: Little Creek Vineyard
September 20 Apex Jazz and Music Festival - Apex
The festival presents jazz and blues on an outdoor stage and at several clubs, and by street musicians throughout the day. There's also a beer garden.
Artists
Main Stage: Peak City Sound, The Soul Psychadelique Orchestra, Heart Brigade, MikeMickXer.
Pub Bands: Saints Apollo, Jamrock Reggae, Secret Chords, Alex Gorodezky and ImproviStory, Victor Haskins, Peak City Blues Project, Will McBride Group, Lowderstill, Straight 8s.
Festival site: Downtown Apex

View Larger Map
Main stage 3:30 to 11:30 p.m.; club shows 6 p.m. to 1 a.m.

$10; beer garden drink tickets $5 each, or five for $20.
September 20 The Blowing Rock Music Festival - Blowing Rock
A day of Americana, folk, blues, rock and jazz on two stages at the site of the famous mountain tourist attraction debuts in 2014.
Artists
Main Stage: The Harris Brothers, Lacy Green, Wayne Henderson, Shelby Moore and Friends, The Nautical Wheelers, The Steve Davidowski Band, Buck Haggard Band.
Rock Stage: Moore Brothers, Spencer Branch; Ray Whisnant, Cecil Palmer and Jimmy Davis; Charlie Carpenter with Jaret Carter, Mitch Clark and Masten Cloer.
Festival site: The Blowing Rock

View Larger Map
Gates open 9 a.m., music starts at 11 a.m.

$25 in advance, $30 at gate.
Reserved seats: $35 in advance.
VIP tents and seating "available" (see website at link above).
Younger than 12 free.
September 20 Brewgrass Festival - Asheville
The festival hosted by the Great Smokies Craft Brewers Association presents beer from about 50 local brewers and several bluegrass bands as a benefit for Big Brothers and Big Sisters of Western North Carolina.
Artists
Smoke from the Kitchen, Blue Highway, Lost River Cavemen, Fox Fire.
Festival site: Memorial Stadium

View Larger Map
1 p.m. to 7 p.m.

$55.

"This is an event for adults," the website says. "But if you have to bring the kids, they are welcomed for the price of a designated driver ticket. Kids under 7 get in free." Anyone younger than 18 must be with a parent.
September 25 - 28 Outer Banks Bluegrass Island Festival - Manteo
The festival debuted in 2012 and has established itself as a major fall event on the Outer Banks featuring top bluegrass acts, a band competition, late-night street dance and more.
Artists
Thursday: The Lonesome River Band, Steve Dilling and Sideline, Bluegrass Brothers, The Trinity River Band, Chris Jones and the Night Drivers, The Corey Hensley Band, Banjo Island, The Wayfarers (street dance).
Friday: Steep Canyon Rangers, Blue Highway, Balsam Range, Sierra Hull, Joe Mullins and the Radio Ramblers, Code Blue, The Wayfarers.
Saturday: Ricky Skaggs and Kentucky Thunder, The Roys, Michael Cleveland and Flamekeeper, Adkins and Loudermilk, The Boxcars, Russell Moore and IIIrd Tyme Out, Loraine Jordan and Carolina Road, The Moore Brothers.
Sunday: Daley and Vincent, Nu-Blu, Doyle Lawson and Quicksilver, The Grass Cats, Larry Stephenson Band, The Bankesters, The Church Sisters, The Gentlemen of Bluegrass.

Festival sites: Roanoke Island Festival Park

View Larger Map
Gates open 10 a.m.

Four-day pass: $110; with backstage access $200; ages 7 to 12 $50.
Daily: $40; ages 7 to 12 $15.
VIP: Sold Out (parking onsite, chair in front of stage, festival souvenir bag, festival hat, etc.)


All non-VIP parking is at the Fort Raleigh National Historic Site, where a $5 shuttle (all-day pass) is available.
September 26 - 28 H Blast! - Locust Hill

The festival's Facebook page promises long sets and short breaks, and says that in addition to the musical lineup, this is "the art fair of all kinds." Admission is limited to 500. Festival organizers began a May festival called Spring Fever in 2014.
Artists
Urban Soil, Aliver Hall, Black Narrows, Mason Via and Friends, Duk Tan, The Love Medicated, Key, The Heritage, Dubtown Cosmonauts, Coddle Creek w/ Somethin' Extra, The Family.
Festival site: Wagon Wheel Road
| | |
| --- | --- |
| View Larger Map | Weekend pass: $60, available at shows by bands in the lineup and at the gate. |
September 27 French Broad Brew Fest - Hot Springs

The hosts of the spring French Broad River Festival started the autumn festival in 2011, and added craft beers to its celebration of music and the mountains.
Artists
Yarn, Jonathan Scales Fourchestra, Tony Trischka and Territory, Hymn for Her, Empire Strikes Brass, Mountaintop Polka Band, Wick-it the Instigator, more TBA.
Festival site: Hot Springs Resort & Spa Campground

View Larger Map
10 a.m. Saturday to 9 a.m. Sunday.

$75 (includes T-shirt, 5-ounce commemorative souvenir sampling glass, unlimited beer samplings)
Designated driver or younger than 21: $60.
Must be at least 12 years old to attend.

Camping free with admission, but it's $25 to park in the campground.
September 27 3B Music Festival - Union Grove
The 3B festival presents bluegrass, blues and barbecue, plus crafts and more in a benefit for the American Renaissance School.
Artists
Misty River Band, Mel Jones, Rockie Lynne, Lacy Green, Covering Carolina, Sons of the South Bluegrass Band, Sojourn of Sparrows, Karla and Stewart Kincaid, The Rambling Wildwoods, American Renaissance School Band, American Renaissance School Chorus.
Festival sites: Fiddler's Grove Campground

View Larger Map
11:30 a.m. to 7 p.m.

$10 in advance, $12 at the gate.
Younger than 15 free if accompanied by an adult.

Fiddler's Grove is an alcohol-free facility.
September 27 - 28 Carrboro Music Festival - Carrboro
The festival presents more than 150 local and regional acts in all sorts of genres at about two dozen indoor and outdoor venues all day and into the night. For 2014 it has added a kickoff party the night before at the Cat's Cradle.
Artists
Marie Vanderbeck Group, Tim Smith and Eileen Regan and friends, Rhonda Robichaux Band, Lynn Blakey, The Carolina Blues Prophets with Tampa Blue, Saludos Compay, Sad Magazine, Pippa Hoover, The Carrborators, Archbishops of Blount Street, Broadleaf, Big Fat Gap, Rooster Logic, Phrench Vanilla, The Pinkerton Raid, Straight 8s, B Side Project, Bellflower, Bulltown Strutters, Milagro Saints, Too Much Fun, Black Dog Syndrome, Rebekah Todd, and many more.
Festival site: Downtown Carrboro

View Larger Map
2 to 6 p.m. Saturday.
Sunday times vary at stage and venues but outdoor stages generally start at 1 or 3 p.m. and run to 7 p.m.; indoor venues, especially bars/nightclubs go into the evening. The festival's website has alphabetical, chronological and stage schedules.

A shuttle bus runs from remote parking to downtown between 1 and 6 p.m.
Return to Carolina Music Festivals' home page
Go to October Music Festivals or to August Music Festivals
Visit Our Sister Sites
Carolina Outdoors Guide
This Land, Your Land
The Medium, The Message
---