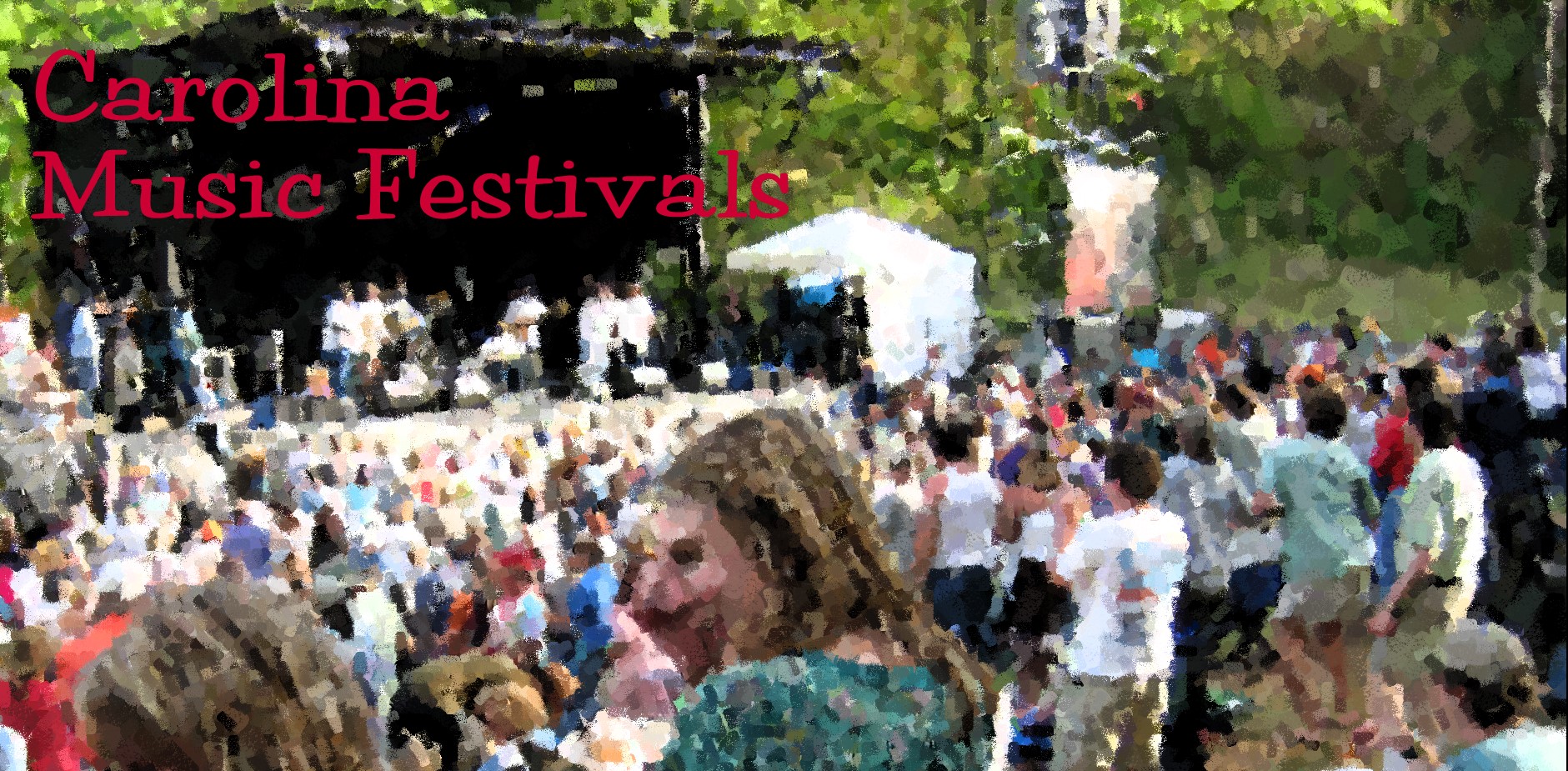 Carolina Music Festivals is a comprehensive calendar and guide to multi-act, daylong or multiple-day music festivals in North Carolina.
September 2014
Dates may be estimated based on last year's festival until confirmed by festival organizers.
September TBA Music Fest at Blue Bear Mountain - Todd
The campground opened in 2013 near Boone and presented the weekend show with local and regional performers early that August. A spokesman said this spring they were looking at September dates this year.
Artists
TBA. 2013 lineup included David Holt and Josh Goforth, The Steeldrivers, Tennessee Mafia Jug Band, Chuck Johnson and Charlyhorse, and four more.
Festival site: Blue Bear Mountain Campground

View Larger Map
Two Day Pass: $65 through July, $75 after.
Friday: $30 through July, $35 after.
Saturday: $40 through July, $45 after. Younger than 13 free.

Alcohol consumption wrist bands: $10 with proper ID; BYOB, no glass.

Tent camping (includes two-day pass): $80 to $90 per person depending on proximity to festival area, with parking at campsite.
Pop-ups or small campers (includes two-day pass): $90 per person, no hookups.
RVs (includes two-day pass): $100 person, with 30 or 50 amp hookups.
Campers must phone 828-406-4226 in advance. Limited number of campsites in each category.

A shuttle bus runs between the campground and High Country Fairgrounds in Boone.
September 4 - 6 Hopscotch - Raleigh
Hopscotch, put on by The Independent Weekly of Durham, presents more than 175 national and international bands from rock, hip-hop, alt-country, heavy metal, dance, punk, classical, noise, drone, folk and more at 15 downtown venues. The festival also presents bands at more than 30 day parties happening throughout the city.
Artists
Spoon, Mastadon, St. Vincent, Sun Kil Moon, Death, High On Fire, Jamie XX, Thurston Moore, IIII, Phosphorescent, Freeman, Lunice, How To Dress Well, 6 String Drag, Alexandra Sauser-Monnig, American Aquarium, Artificial Brain, Author and Punisher, Axxa/Abbraxas, Ava Luna, Avers, Bedowyn, Blanko Basnet, Blursome, Body Games, Canine Heart Sounds, Coke Weed, Cousins, Dark Rooms, Davidians, Dead Gaze, Demon Eye, Deniro Farrar, Dent May, Diarrhea Planet, Drag Sounds, Death, Eagulls, Ed Schrader's Music Beat, Enemy Waves, First Person Plural, Free Clinic, GEMS, Ghostt Bllonde, Guerilla Toss, Helm, Holygrailers, Jacuzzi Boys, Joe Scudda, KEN mode, Krill, Last Year's Men, Landlady, Lee Noble, Loamlands, Lonnie Walker, Mark McGuire, Marley Carroll, Mapei, Matt Kivel, Matt Northrup, Mas Ysa, Museum Mouth, Mutual Benefit, Nest Egg, New Music Raleigh Presents: Future Shock, Nik Turner's Hawkwind, No Eyes, No Love, Obnox, Octopus Jones, Open Mike Eagle, Potty Mouth, Power Trip, Palehound, Paperhaus, Prince Rama, Reigning Sound, Ryley Walker, Saint Rich, Screature, See Gulls, Soft Cat, Solar Halos, Strange Faces, SubRosa, Sun Araw, Sun Club, The Haxan Cloak, The Nervous Ticks, The Tills, The Range, The White Octave, Tony Conrad, T0W3RS, Valient Thorr, Virgins Family Band, Walin' Storms, Well$, White Lung, White Laces, Wild Fur, Wing Dam, Winston Facials, Witch Mountain, Wowolfol, Y'ALL, Young Cardinals, YVETTE, Zack Mexico, more TBA.

Festival site: City Plaza, Fletcher Opera Theater and several clubs downtown.

View Larger Map
Multi-day Hopscotch tickets go on sale early in the year. As groups of "early bird" tickets sell out, the price rises. Prices include all taxes and fees.
Three-day pass: $95 "very limited," $105 "a larger batch"; $125 regular.
Three-day VIP pass: $180.
Daily all-access (on sale in June): $65 Thursday, $85 Friday and Saturday.
City Plaza shows (on sale in June): $40.

September 5 - 6 Catawba Valley Music Revival Music Festival - Cherryville
Catawba Valley Music Revival Inc. works to preserve and promote live music in the Unifour and surrounding areas of North and South Carolina by making sure it can be heard, appreciated and celebrated in a family-friendly environment.
Artists
TBA. 2013 lineup included The Grascals, Balsam Range, Bill Yates & Country Gentleman Tribute Band and five more.
Festival site: Private Farm on Coot Williams Road

View Larger Map
Gates open noon Thursday and Friday, 9 a.m. Saturday.

Three-day pass: $45 in advance; $35 until July 15.
Daily: $20 in advance; $25 at gate.
Younger than 13 free.

Free camping with showers available.
September 5 - 6 Bull Durham Blues Festival - Durham
The Bull Durham festival returned to the Durham Athletic Park and a two-day format for its 25th anniversary in 2012 but was a single-day auditorium show in 2013. The website shows a two-day event in 2014.
Artists
TBA. 2013 lineup was Big Daddy Wilson, Claudette King, Jimmy Haggard, Rhonda Robichaux, Jason Damico and the New Blue.
Festival site: St. Joseph's Performance Hall
September 6 In The Pines Bluegrass Festival - Goldsboro
The nonprofit North Carolina Bluegrass Association announced the inaugural In the Pines Bluegrass Festival at the start of March 2014, promising great music, exciting raffles, vendors, and more in an alcohol-free, family-friendly environment.
Artists
Wayne Taylor and Appaloosa, Nu-Blu, Al Batten and the Bluegrass Reunion, Samantha Casey and the Bluegrass Jam, The Grass Strings, Carolina Tradition.
Festival site: Waynesborough Park
September 12 - 13 Mountain Song Festival - Brevard
Proceeds of the Brevard Music Center show hosted by Steep Canyon Rangers benefit the Boys & Girls Club of Transylvania County.
Artists
Steep Canyon Rangers, Chatham County Line, Kruger Brothers, Della Mae, Shannon Whitworth, Seldom Scene, Milk Carton Kids.
Festival site: Whittington-Pfohl Auditorium, Brevard Music Center

View Larger Map
Gates open 4 p.m. Friday, noon Saturday.

Two-day pass: $80; Friday $40, Saturday $47.50.
General admission seating; Children younger than 10 free on lawn or on lap of paying adult in auditorium.

September 12 - 13 Charlotte Sunset Jazz Festival - Charlotte
The festival presents a nationally known smooth jazz act for an indoor concert Friday night, and local artists for a free outdoor show Saturday.
Artists
TBA. 2013 lineup was Ron Ayers, Dante Lewis, Groove 8, Bam-Jazz, Los Trabucos.
Festival site: Marshall Park
September 18 - 20 Hoppin' John Old-Time and Bluegrass Fiddlers' Convention - Silk Hope
Shakori Hills hosts competitions that award cash prizes in Old Time Fiddle, Bluegrass Fiddle, Old Time Banjo, Bluegrass Banjo, Guitar, Mandolin, Folk Song, Bass, Youth Musicianship, Dance and Youth Dance categories. There are also square dances, musicians' workshops, a hoppin' john cookoff, and arts and crafts, musical instrument and food vendors.
Artists
TBA. 2013 lineup included Five Points Rounders, Shamu Garcon, Wayne Erbsen and three more.
Festival site: Shakori Hills

View Larger Map
7 p.m. Thursday, 3 p.m. Friday, 11 a.m. Saturday.

Three-day pass: $22; competitors $20, with $5 refunded.
Thursday $6, Friday $8, Saturday $12.

Competitions and/or dances take place on the Grove Stage and in the Dance Tent (see our Shakori Hills Grassroots Festival of Music & Dance page).

Camping: $10 per vehicle per night or $15 per night for RVs. No hookups. Outdoor hot showers available. Camping available starting Wednesday.
September 18 - 20 Dailey Vincent Land Fest - Denton
The popular bluegrass duo Dailey and Vincent started their own festival in 2013. It includes a band contest with cash prizes and stage time for winners.
Artists
Thursday: Rhonda Vincent and the Rage, Darrell Webb Band, Primitive Quartet, Renaissance Bluegrass Band.
Friday: Dailey and Vincent, Joe Mullins & The Radio Ramblers, The Steel Drivers, Bobby Osborne and The Rocky Top X-Press.
Saturday: Dailey and Vincent, The Whites, Carl Hurley, Terry Baucom and the Dukes of Drive, band contest winner.
Festival site: Denton Farm Park

View Larger Map
Three-day pass: $130 reserved, $110 general admission; age 15 to 17 $67.50 reserved, $57.50 general admission.
Two-day pass: $80 general admission; age 15 to 17 $37.50 general admission.
One-day pass: $45 general admission; age 15 to 17 $25 general admission.
Younger than 15 free general admission with paying adult.

Tent camping with one vehicle is free with two-day pass, See the website for RV pricing.
September 20 Apex Jazz and Music Festival - Apex
The festival presents jazz and blues on an outdoor stage and at several clubs, and by street musicians throughout the day. There's also a beer garden.
Artists
TBA. 2013 lineup included Captain Luke and Cool John Ferguson, The Soul Psychedelique Orchestra, E-Train and The Rusted Rails, and 10 more.
Festival site: Downtown Apex

View Larger Map
Main stage 3:30 to 11:30 p.m.; club shows 6 p.m. to 1 a.m.

$10; beer garden drink tickets $5 each, or five for $20.
September 20 Brewgrass Festival - Asheville
The festival hosted by the Great Smokies Craft Brewers Association presents beer from about 50 local brewers and several bluegrass bands as a benefit for Big Brothers and Big Sisters of Western North Carolina.
Artists
TBA. 2013 lineup was The Seldom Scene, Larry Keel and Natural Bridge, Johnson's Crossroad, The Henhouse Prowlers.
Festival site: Martin Luther King Jr. Park

View Larger Map
Noon to 7 p.m.

$55.

"This is an event for adults," the website says. "But if you have to bring the kids, they are welcomed for the price of a designated driver ticket. Kids under 7 get in free." Anyone younger than 18 must be with a parent.
September 25 - 28 Outer Banks Bluegrass Island Festival - Manteo
The festival debuted in 2012 with three days of "good ole Southern pickin' in the tradition of Bill Monroe, Lester Flatt and Earl Scruggs, and so many other legendary performers."
Artists
Thursday: The Wayfarers (street dance); Banjo Island, Drifting Sands (indoor theater); a showing of "O Brother, Where Art Thou" (indoor theater).
Friday: Rhonda Vincent and the Rage, Steep Canyon Rangers, Blue Highway, Sierra Hull, Joe Mullins and the Radio Ramblers, Balsam Range, Code Blue, The Wayfarers.
Saturday: Ricky Skaggs and Kentucky Thunder, Loraine Jordan and Carolina Road, The Boxcars, Russell Moore and IIIrd Tyme Out, The Roys, The Moore Brothers, Dave Adkins and Republik Steele, Banjo Island.
Sunday: Daley and Vincent, Nu-BLu, Doyle Lawson and Quicksilver, The Grass Cats, Larry Stephenson Band, The Bankesters, The Church Sisters, The Gentlemen of Bluegrass.

Festival sites: Roanoke Island Festival Park

View Larger Map
Gates open 10 a.m. daily; Thursday's movie and live performances start 6 p.m.; music starts 11 a.m. Friday thorugh Sunday.

Thursday: Free.
Weekend pass: $75 early bird (sold out); $85.
Friday, Saturday, Sunday (each): $35.
VIP: $175 (parking onsite, chair in front of stage, festival souvenir bag, festival hat, poster and pen.)
Backstage pass: $225. (Access to scheduled meet and greets, and to side-stage seat for performances.) Has to be bought in addition to daily or weekend pass.

All non-VIP parking is at the Fort Raleigh National Historic Site, where a $5 shuttle (all-day pass) is available.
September 26 - 28 H Blast! - Locust Hill

The festival's Facebook page promises long sets and short breaks, and says that in addition to the musical lineup, this is "the art fair of all kinds." Admission is limited to 500. Festival organizers began a May festival called Spring Fever in 2014.
Artists
Urban Soil, Aliver Hall, Black Narrows, Mason Via and Friends, Duk Tan, The Love Medicated, Key, The Heritage, Dubtown Cosmonauts, Coddle Creek w/ Somethin' Extra, The Family.
Festival site: Wagon Wheel Road
| | |
| --- | --- |
| View Larger Map | Weekend pass: $60, available at shows by bands in the lineup and at the gate. |
September 26 - 28 R.evolution Music Festival - Marion
The festival, a charity fundraising event with a focus on sustainable living, relocated to the mountains in 2013 from Carolina Beach, where it was a free semi-annual event.
Artists
TBA. 2013 lineup included Duende Mountain Duo, Flux Capacitor, Jahman Brahman, A Ghost Like Me, and 11 more.
Festival Site: Catawba River Campground

| | |
| --- | --- |
| View Larger Map | $50 until July 31, $60 August 1 to September 20, $80 afterward. |
September 27 French Broad Brew Fest - Hot Springs

The hosts of the spring French Broad River Festival started the autumn festival in 2011, and added craft beers to its celebration of music and the mountains.
Artists
TBA. 2013 lineup included Lukas Nelson and Promise of the Real, The Fritz, Underhill Rose, Black Robin Hero, and about five more.
Festival site: Hot Springs Resort & Spa Campground

View Larger Map
10 a.m. Saturday to 9 a.m. Sunday.

$75 (includes T-shirt, 5-ounce commemorative souvenir sampling glass, unlimited beer samplings)
Designated driver or younger than 21: $60.
Must be at least 12 years old to attend.

Camping free with admission.
September 27 3B Music Festival - Union Grove
The 3B festival presents bluegrass, blues and barbecue, plus crafts, children's activities and wagon rides in a benefit for the American Renaissance School. (See the Facebook page also.)
Artists
TBA. 2013 lineup included Sarah Clanton Shaffer, Spirit Fiddle, Maggie's Farm, Jim Avett and 11 more.
Festival sites: Fiddler's Grove Campground

View Larger Map
11:30 a.m. to 7 p.m.

$10 in advance, $12 at the gate.
Younger than 15 free if accompanied by an adult.

Fiddler's Grove is an alcohol-free facility.
September 27 - 28 Carrboro Music Festival - Carrboro
The festival presents more than 150 local and regional acts in all sorts of genres at about two dozen indoor and outdoor venues all day and into the night.
Artists
TBA. 2013 lineup included The Harvey Dalton Arnold Band, Craicdown, Saludos Compay, Big Fat Gap, Tracy S. Feldman and many more.
Festival site: Downtown Carrboro

View Larger Map
2 to 6 p.m. Saturday.
Sunday times vary at stage and venues but outdoor stages generally start at 1 or 3 p.m. and run to 7 p.m.; indoor venues, especially bars/nightclubs go into the evening. The festival's website has alphabetical, chronological and stage schedules.

A shuttle bus runs from remote parking to downtown between 1 and 6 p.m.
Return to Carolina Music Festivals' home page
Go to October Music Festivals or to August Music Festivals
Visit Our Sister Sites
Carolina Outdoors Guide
This Land, Your Land
The Medium, The Message
---