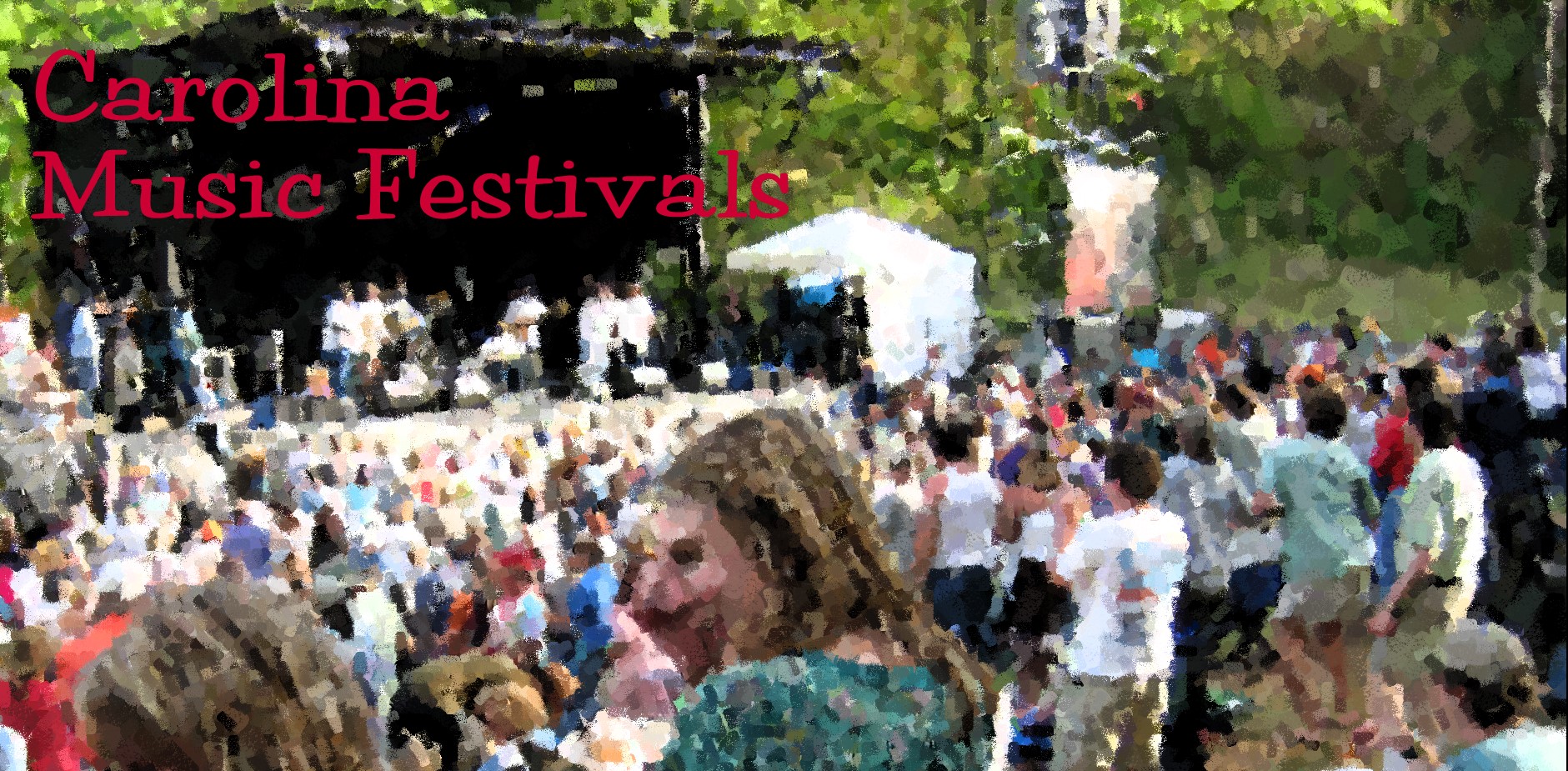 Carolina Music Festivals is a comprehensive calendar and guide to multi-act, daylong or multiple-day music festivals in North Carolina.
** Mobile Users - turn your device sideways for better results. **
December 2017 - North Carolina Music Festivals
December 14 - 16 A Bluegrass Kinda Christmas - Raleigh
The promoter behind September's Bluegrass Island Festival in Manteo started this festival in 2016 with a lineup of 15 acts, plus 12 of "Tomorrow's Bluegrass Stars." The hotel-based show also presented workshops, vendors and late-night jamming. Balsam Range hosts.
Artists
Thursday: Doyle Lawson and Quicksilver, Trinity River Band, The Grass Cats, Flint Hill Bluegrass Band, TBS (Tomorrow's Bluegrass Stars).
Friday: The Isaacs, Sideline, Darrell Webb Band, Code Blue, Deeper Shade of Blue, TBS (Tomorrow's Bluegrass Stars).
Saturday: Darrell Webb Band, Sowell Family Pickers, The Malpass Brothers, Darin and Brooke Aldridge, Breaking Glass, Carolina Blue, TBS (Tomorrow's Bluegrass Stars).
Festival site: Hilton North Raleigh/Midtown

Three-day pass: $150 (reserved seats; 400 available); $125 general admission; ages 7 to 12 (general admission) $65.
Daily (general admission): $45, ages 7 to 12 $25.
December 16 Winter Music Fest - Morganton
The evening of music is a fundraiser for Casting for Hope, a nonprofit that helps women in western North Carolina who are living with ovarian or other gynecological cancers and their families through "limited financial assistance" and fly-fishing retreats, fly-tying and rod-building clinics, and other recreational outings. The festival, which is in its fifth year in 2017, presents local, regional and national musical acts. There is also a benefit dinner at a nearby church before musical performances and an after-party with food and drinks as part of its admission price.
Artists
Mipso, Holy Ghost Tent Revival, Tellico, Virginia Man Band, and additional acoustic bands playing in the VIP lounge.
Festival site: City of Morganton Municipal Auditorium

Dinner 5:30 to 7:30 p.m., first show 7 p.m.

Concerts: $15.
Deluxe: $50, includes concerts and after-party.
VIP: $75, includes dinner, concerts and after-party.


Return to Carolina Music Festivals' full-year calendar - home page.




Go to November Music Festivals // Go to January Music Festivals


Visit Our Sister Sites
Carolina Outdoors Guide // This Land, Your Land

PC Nelson Communications


---