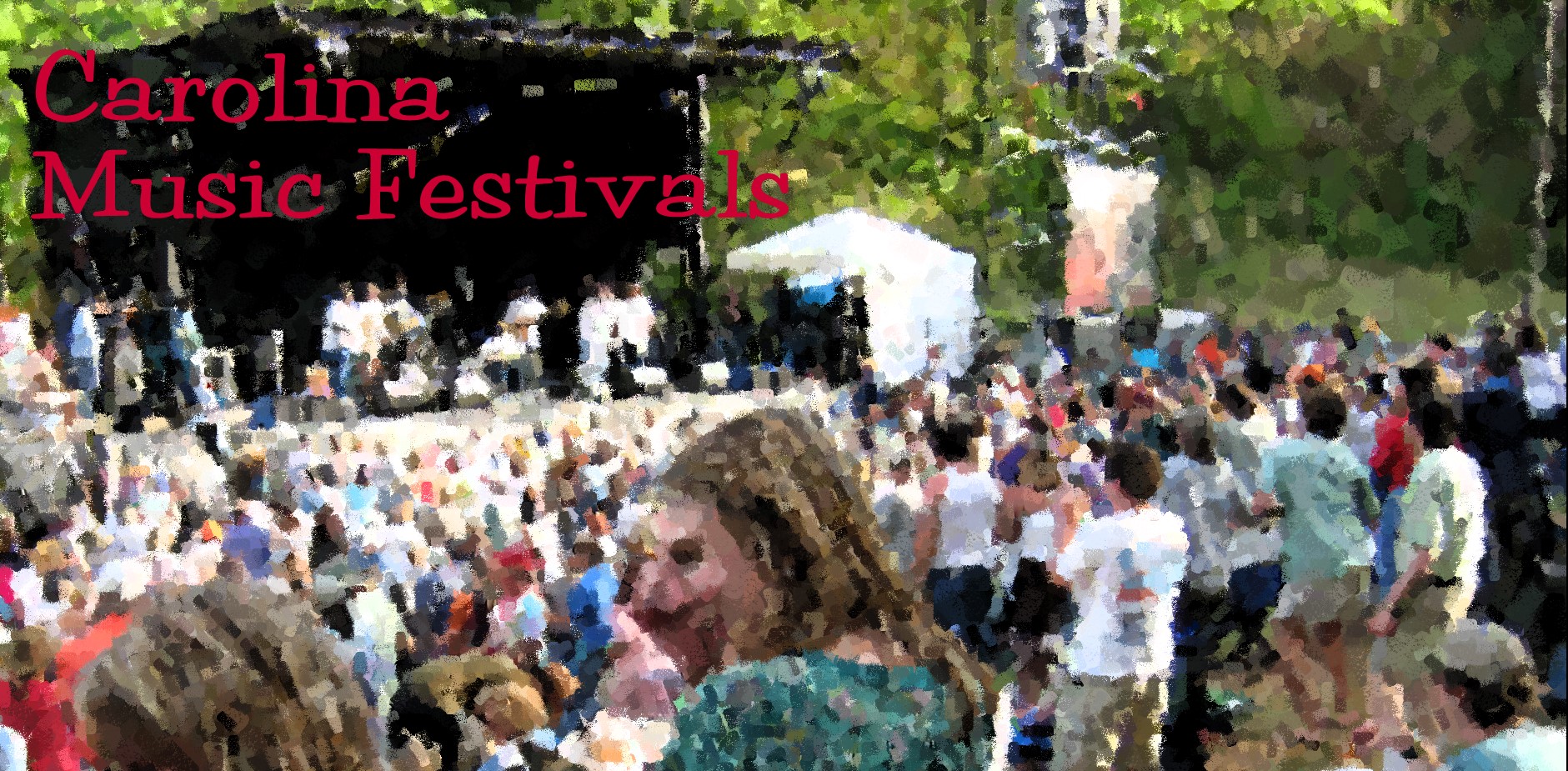 Carolina Music Festivals is a comprehensive calendar and guide to multi-act, daylong or multiple-day music festivals in North Carolina.
October 2015
Dates and other details may be estimated based on last year's festival until confirmed by festival organizers.
September 29 - October 3 Wide Open Bluegrass Festival - Raleigh

The International Bluegrass Music Association's World of Bluegrass annual convention, awards show and fan festival relocated from Nashville to Raleigh for 2013 through 2018. It presents newgrass, jamgrass, traditional bluegrass, old-time and more by more than 150 acts in Wide Open Bluegrass at the downtown amphitheater, the Bluegrass Ramble showcase performances at downtown clubs and the Convention Center, and a free street festival put on by the City of Raleigh. The convention also includes a business conference, music expo, a bluegrass-oriented film festival added in 2014, workshops, fan / celebrity meet-and-greets and more.
The IBMA Awards show, which is also a part of the weekend, requires separate tickets (see below). Click on the photo for more information.
Artists
Blugrass Ramble (Tuesday through Thursday): April Verch, Ash Breeze Band, Big Virginia Sky, Blue Mafia, Bradford Lee Folk and the Bluegrass Playboys, Caribou Mountain Collective, Charm City Junction, Chris Henry and The Hardcore Grass, Detour, Donna Hughes, Front Country, Gold Heart, Greg Blake, Hank Smith and Lindsey Tims, Lindsay Lou and the Flatbellys, Mipso, Rex McGee, Rob Ickes and Trey Hensley, Ryan Cavanaugh, Songs of the Fall, Steve Gulley and New Pinnacle, Taarka, The Lonesome Ace Stringband, The Missy Werner Band, The Original Five (from Sweden), The Steel Wheels, The Tyler Williams Band, Unspoken Tradition, Vickie Vaughn Band, Wood and Wire.
Wide Open Bluegrass (Friday and Saturday): Alison Krauss and Union Station featuring Jerry Douglas, Jerry Douglas presents Earls of Leicester, Sam Bush Band, The Gibson Brothers, Steep Canyon Rangers, The Kruger Brothers (with special guests), Balsam Range, The Claire Lynch Band, Blue Highway, The Infamous Stringdusters, Frank Solivan and Dirty Kitchen, O'Connor Family Band, The Wailin' Jennys, Flatt Lonesome, Band of Ruhks, and performances from "Orthophonic Joy: The 1927 Bristol Sessions Revisited" with Jesse McReynolds, Ashley and Shannon Campbell, Carl Jackson, The Shotgun Rubies, The Church Sisters, Corbin Hayslett and special guests.
Street Fest (Friday and Saturday): TBA.
Festival site: Red Hat Amphitheater, Raleigh Convention Center, Fayetteville Street, Nearby Clubs


View Larger Map
Convention Center: 10 a.m. to 4 p.m.; Red Hat Amphitheater: 1 p.m. to 11 p.m.; Bluegrass Ramble: 6 p.m. to 2 a.m. Tuesday and Wednesday, 10 p.m. to 2 a.m. Thursday through Saturday.

Two-day pass with reserved seat at amphitheater: sections 1 to 3 - $120 IBMA member, $140 nonmember; sections 4 to 7 - $100 IBMA member, $120 nonmember.
Single-day with reserved seat: section 1 to 3 - $60 IBMA member, $70 nonmember; sections 4 to 7 - $50 IBMA member, $60 nonmember.
Two-day general admission pass: $80 IBMA member, $100 nonmember; younger than 15: $60 IBMA member, $70 nonmember.
Daily general admission pass: $40 IBMA member, $50 nonmember; younger than 15: $30 IBMA member, $35 nonmember.

Bluegrass Ramble: full pass $65 IBMA member, $75 nonmember; $20 per evening IBMA members, $25 nonmembers.

Bluegrass Wide Open tickets include admission to expo as well as amphitheater and convention center stages. Bluegrass Ramble tickets are separate but are included with business conference registration.

IBMA Awards: Lifetime IBMA Members - $90, $50, $40.
Organizational, Individual, or Grass Roots Club IBMA Members - $95, $55, $45.
Non-members: $105, $65, $55.

Camping: N.C. State Fairgrounds (about 5 miles away with a shuttle available) $25 per night for tents, campers or RVs with full hookups (50 sites available). RV camping with no hookups adjacent to convention center $30 per night (30 sites).
October 1 - 3 Homegrown Music Network 20th Anniversary - Mebane
Leeway's Home Grown Music Network, "a shared collective of people, independent jam bands, live music venues, and businesses working together to make the independent music scene stronger," celebrates 20 years with performances by about 25 bands. There will also be visual arts performances, arts and craft and food vendors, and more throughout the weekend.
Artists
Lotus, Keller Williams, Big Something, Cornmeal, Purple Schoolbus (original lineup), The Recipe, Roots of Creation, Barefoot Manner, Peter Prince and Moon Boot Lover, Big Daddy Love, Moses Guest, Dangermuffin, The Broadcast, Electric Soul Pandemic, Rumpke Mountain Boys, Max Allen Band, The Floorboards, The Hip Abduction, Sol Roots, Option 22, The Get Right Band, The Royal Noise, Rebekah Todd and The Odyssey, David Dixon Band, Fat Cheek Kat, Imperial Blend, Urban Soil, Nick and the Babes.
Festival sites: Lynch Farm
Noon to 11 p.m. Thursday, 9 a.m. to midnight Friday, 9 a.m. to 10 p.m. Saturday.

Three-day pass: $100.
Friday and Saturday: $80.
Saturday: $50.
Younger than 13: $20.
No "daily" admission.

Tent camping free with ticket; car camping (30 available) $80; RV camping (no hookups) $100.
Hot showers onsite.

Parking $10 (waived with car or RV camping reservation).
October 3 Bascom Lamar Lunsford Festival - Mars Hill
Regional musicians and dancers remember Bascom Lamar Lunsford, a musician and folklorist who dedicated his life to collecting and promoting the music of the Southern Appalachians. The festival presents performances outdoors during the day and an auditorium at night. The day includes the Fiddlin' 5K Road Race and Fun Run.
Artists
TBA. 2014 lineup included Richard Hurley, Rihannon Ramsey, Stoney Creek Boys, Roger Howell, Joe Penland and about 20 more.
Festival sites: Mars Hill University

View Larger Map
Daytime stage 10 a.m. to 4 p.m.; ballad and story swap 1:30 to 3:30 p.m.; evening show starts 7 p.m.

Daytime shows are free; evening show $10, $5 younger than 12, free with Mars Hill University ID.
October 3 Down South Music Festival - Sanford
The Southern country music festival began as a benefit for victims of a tornado that hit the Sanford area on April 16, 2011. It is presented by Lights on Broadway, a group that supports organizations in the Lee County community of Broadway. There will also be food and drink vendors.
Artists
TBA. 2014 lineup was Brick City South, The Seaside Band, Mr. Cat, Larry Frick, Craig Campbell, Rob Matthews.
Festival sites: Lion's Club Fairgrounds

View Larger Map
Gates open 4 p.m., music starts at 5 p.m.

$15 in advance; $20 day of show or $15 with four cans of food at the gate.
Younger than 7 free.

24 spaces for 10'x10' tents will be available day of show for $20 each.
October 8 - 11 Shakori Hills Grassroots Festival - Silk Hope
| | |
| --- | --- |
| The semiannual Shakori Hills Grassroots Festival of Music & Dance (see April schedule) presents an eclectic mix of music - from rock to jazz and Americana, Cajun and klezmer - on four stages. There are also musicians' competitions, art and craft vendors, food vendors, games, a drum circle, children's activities and more. Donna the Buffalo is the host band. Click on the photo for more information. | |
Artists
Donna the Buffalo, Hot Rize featuring Red Knuckles and The Trailblazers, Nora Jane Struthers and The Party Line, The Old Ceremony, Big Fat Gap, Big Mean Sound Machine, The Black Lillies, Blind Boy Paxton, Brett Harris, Danay Suarez, Ellis Dyson and The Shambles, JD McPherson, Kelley and The Cowboys, Kinobe and The Wamu Spirit, Liz Vice, Lobo Marino, Old Man Luedecke, Preston Frank, Red Baraat, Rubblebucket, Sister Sparrow and the Dirty Birds, Tim O'Brien, The Cane Creek Cloggers, more TBA.
Festival site: Shakori Hills

View Larger Map
Music starts 5 p.m. Thursday, 1 p.m. Friday, 11 a.m. Saturday, 12:30 p.m. Sunday.

Four-day pass: $85 early-bird, $95 in advance, $100 at gate; ages 13-15 $45 in advance, $55 at gate.
Thursday $20 in advance, $25 at gate; Friday $30 in advance, $35 at gate, Saturday $40 in advance, $45 at gate; Sunday $20 in advance, $25 at gate.
Ages 13-15 (at gate only): Thursday $12, Friday $17, Saturday $22, Sunday $12.

Camping: Tents $10; RVs $50 in advance, $60 at gate. RV more that 25 feet long or a vehicle and trailer pays double.
October 9 - 10 Mustang Music Festival - Corolla
The benefit for the Corolla Wild Horse Fund, a nonprofit organization working to protect and preserve the last remaining herd of Spanish Mustangs on the northern Outer Banks, presents a slate of shows at a main outdoor site and late night sets at a various other venues. Regional breweries and area restaurants will have contingents onsite alongside arts and craft vendors. See also the Mustang Spring Jam in May.
Artists
Keller Williams and More Than a Little, Rusted Root, Dirty Dozen Brass Band, The Nth Power, Sister Sparrow and the Dirty Birds, Mike Dillon Band, Ryan Montbleau Band, Fruition, American Babies, The Fritz, Violent Mae, Birddog, Seth Stainback and Roosterfoot, Sean Olds and Church of the Eternal, Lunar Test Drive, The Ballroom Thieves, Dead 27s, Big Bone Daddy, Mike Dillon, Farnell Newton, Josh Daniel, Mark Schmick, Greg Howell.
Festival site: The Whalehead

View Larger Map
2 p.m. Friday, 11 a.m. Saturday to 10 p.m. on main stage and to 1:30 a.m. at clubs.

Two-day pass: $59.
Daily: $35.
VIP pass (admission to Thursday kickoff party, private viewing area, food, beer, wine, flush-toilet restrooms): $179.
Younger than 13 free.
October 10 Clayton Shindig - Clayton
| | |
| --- | --- |
| The small-town gathering is a benefit for Toys for Tots, and also features a barbecue cookoff, beer from local breweries and a cornhole tournament. A second stage has been added for 2015. Click on the photo for more information. | |
Artists
SteelDrivers, The Black Lillies, Fruition, Scythian, Cabinet, The Hey Brothers, Johnny Orr, Lonesome Drive, Canaan James, Knockin' Spirits.
Festival site: Downtown Clayton
October 10 3B Music Festival - Union Grove
The 3B festival presents country, bluegrass, blues and barbecue, plus crafts and more in a benefit for the American Renaissance School.
Artists
Kruger Brothers,Marcus Myles Ireland, Clay Lunsford, Misty River Band, Bruce Hedrick, Jim Avett, Sons of the South Bluegrass Band, Rick Edmisten, Karla Kincaid Music, American Renaissance School Chorus.
Festival sites: Fiddler's Grove Campground

View Larger Map
Noon to 6:30 p.m.

$15 in advance, $20 at the gate.

Fiddler's Grove is an alcohol-free facility.
October 10 Todd New River Festival - Todd
The free festival sponsored by the Todd Ruritan club on the banks of the New River features bluegrass and a gospel sing, raffles, a checkers playoff, a horseshoe toss, craft displays, storytelling and children's activities.
Artists
TBA. 2014 lineup included Aubrey Spurlok and Friends, Dan Mosely Band, Upright and Breathing and five more.
Festival site: Walter and Annie Cook Park
October 10 - 11 Pleasure Island Seafood, Blues & Jazz Festival - Kure Beach
| | |
| --- | --- |
| The oceanside festival presents national, regional and local blues and jazz performers on two stages, plus coastal cuisine; craft vendors; wine, beer and liquor; and a children's area with magicians, jugglers, clowns and more. The festival is sponsored by the Pleasure Island Chamber of Commerce, which serves Carolina Beach and Kure Beach. Click on the photo for more information. | |
Artists
Saturday: Dr. John and the Nite Trippers, Kara Grainger, David Gerald, Lockdown Blues Band, CrackerBones.
Jazz Stage: Freeport, Nena Repeta, Will McBride Group.
Sunday: Shemekia Copeland, Smokin' Joe Kubek and Bnois King, Adrian Duke Project.
Jazz Stage: El Jaye Johnson and The Port City All Stars, The FROG Project, Benny Hill Trio.
Festival site: Fort Fisher Air Force Recreational Area

View Larger Map
Begins 12:30 p.m. each day; gates open at 11 a.m.

Two-day pass: $50 in advance.
Saturday only: $60.
Sunday only: $25.
Younger than 13 free.

Tickets are limited; this event tends to sell out.
October 15 - 18 LEAF - Black Mountain
| | |
| --- | --- |
| The semiannual LEAF - Lake Eden Arts Festival - embraces new ageism, world music and the outdoors at a mountain camp well-appointed for weekend festivals (see May schedule). Click on the photo for more information. | |
Artists
Aaron Neville, Preservation Hall Jazz Band, Dumpstaphunk, Rebirth Brass Band, Rising Appalachia, The Revivalists, Charmaine Neville, Cedric Watson and Bijou Creole, Roosevelt Collier Gospel, California Honeydrops, New Orleans Suspects, A Moving Sound, Dirty Bourbon River Show, AJ Ghent Band, Khris Royal and Dark Matter, Sol Driven Train, Jeff Sipe Trio, Leah Song of Rising Appalachia, Soul Feather, Casa Samba, Jaden Carlson Band, Bumper Jacksons, Lyric, The Roamin' Jasmine, The Resonant Rogues, Jeff Thompson, HoveyKraft, Rachael Kilgour, George Porter Jr., Farnell Neutron, Ben Hovey, more.
Contra dance bands: Maivish, Great Bear, Buddy System, DJ JorD, Mary Wesley and Sarah Van Norstrand.
Festival site: Camp Rockmont


View Larger Map
Ticket prices in several combinations increase periodically or as limited numbers available at each tier are sold out. These are prices for September 4 to October 15:
Weekend pass (with tent camping, three days, two nights): $168 adults, $142 ages 10-17.
Weekend Plus (with tent camping, three and a half days, three nights, i.e., Thursday): $203 adults, $177 ages 10-17.
Community Pass (weekend for local residents): $112 adults, $99 ages 10-17.
Friday or Sunday: $50 adults, $40 ages 10-17.
Saturday: $60 adults, $53 ages 10-17.
Age 9 and younger free; younger than 18 must be with a parent. Packages for spring and fall festivals also available.

Car camping: $69 per 20×20 spot (one vehicle per spot).
RV Parking: $135 per spot (for larger vehicles that do not fit within the 20×20 vehicle camping spots)
Cabins: Sleeps 9 $305; sleeps 12 $360; lodge room for five $305; lodge bunk $90. Prices for Friday and Saturday; Thursday add $55 for cabin, $35 for bunk.


Return to the Carolina Music Festivals home page.




Go to September Music Festivals // Go to November Music Festivals


Visit Our Sister Sites
Carolina Outdoors Guide // This Land, Your Land

PC Nelson Communications // The Medium, The Message


---