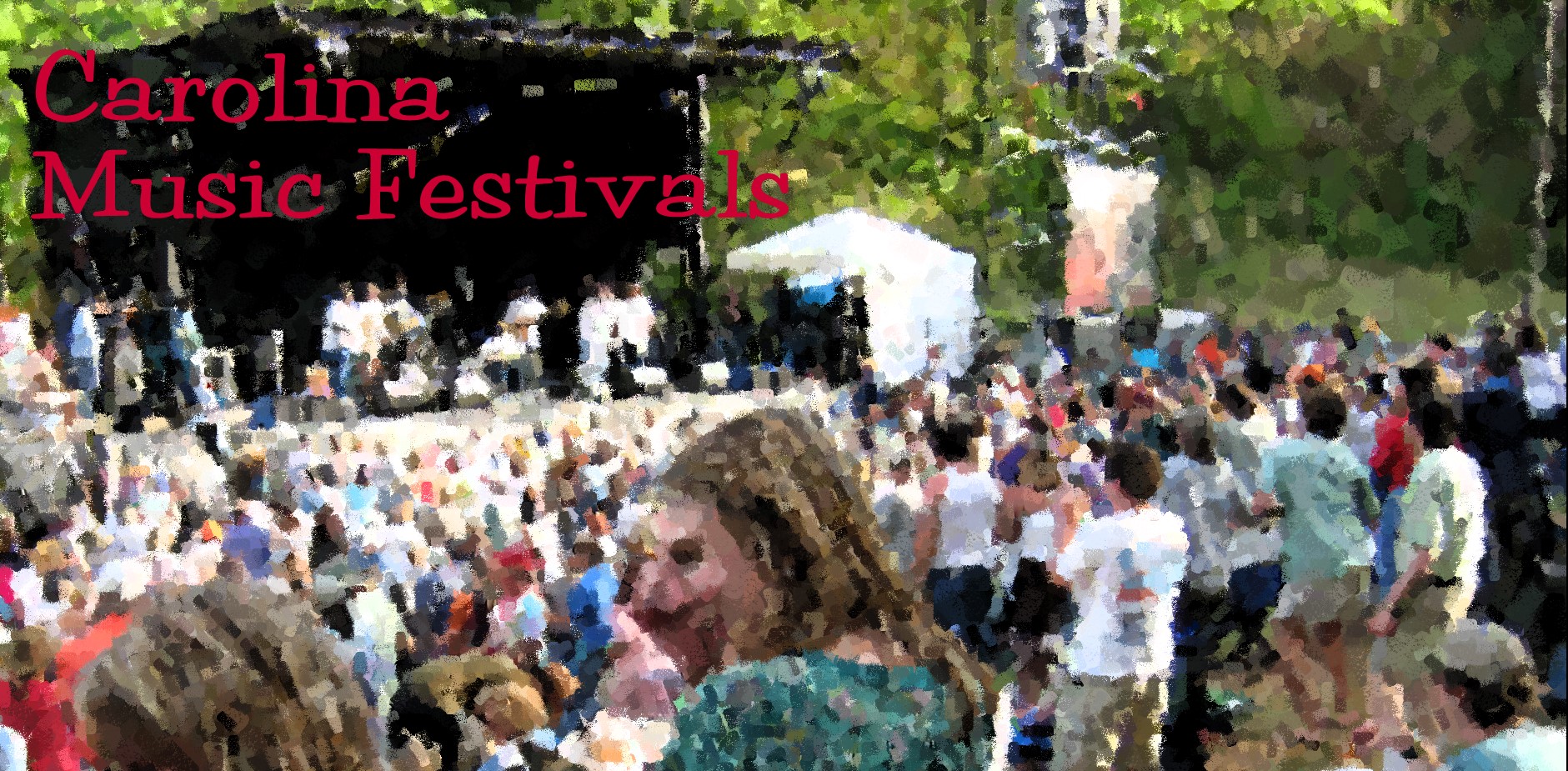 Carolina Music Festivals is a comprehensive calendar and guide to multi-act, daylong or multiple-day music festivals in North Carolina.
October 2013
October 4 - 6 Outer Banks Bluegrass Festival - Manteo

The festival debuted in 2012 with three days of "good ole Southern pickin' in the tradition of Bill Monroe, Lester Flatt and Earl Scruggs, and so many other legendary performers." Each day's show is at a different venue. Sunday's shows are gospel performances.

Artists
Friday: The Grascals, Nothin' Fancy, The Roys, The Moore Brothers, The James King Band, The Gentlemen of Bluegrass, Cumberland River, Drymill Road, The Wayfarers.
Saturday: Rhonda Vincent & the Rage, Russell Moore & IIIrd Tyme Out, Lorraine Jordan & Carolina Road, Drifting Sands, Nu Blu, The Hillbilly Gypsies, Code Blue, Banjo Island.
Sunday: Doyle Lawson & Quicksilver, Rhonda Vincent & the Rage, Dailey & Vincent, Sweet Potato Pie, Stoney Creek.


Festival sites: Roanoke Island Festival Park and other venues

View Larger Map
2 p.m. Friday, 11 a.m. Saturday, noon Sunday.

Friday and Sunday are free.
Friday's show is in downtown Manteo. Sunday's show is on outside decks and in the ballroom at the Comfort Inn at South Nags Head.

Saturday: $25 in advance, $35 at gate; $10 younger than 13.
VIP pass for $75 includes "premium seating with a chair provided," preferred parking and souvenirs.
October 4 - 6 New Bern Storytelling and Folk Music Festival - New Bern
The festival debuts in 2013 to present contemporary folk music and free-form storytelling by local artists. Shows move among several downtown New Bern venues (see schedule at link).
Musical Artists
Friday: The Barefoot Movement, Tom Maxwell, Rebekah Todd, E-S Guthrie.
Saturday: Diali Cissokho, Matt Frye, The Johns.
Sunday: The Swayback Sisters, Penne Sandbeck, Zach Dunham, Meg Wethington, 14 Strings.

Festival sites: Trent River Coffee Company, Isaac Taylor Garden, Bank of the Arts, James Reed Lane.

View Larger Map
7 p.m. Friday, 1 to 5 p.m. and 7 p.m. Saturday; 1 to 5 p.m. and 6:30 p.m. Sunday.

Friday: $15 in advance, $20 day of show.
Saturday, Sunday afternoon: free.
Sunday evening (Swayback Sisters): $10.
October 5 Bascom Lamar Lunsford Festival - Mars Hill
Regional musicians and dancers remember Bascom Lamar Lunsford, a musician and folklorist who dedicated his life to collecting and promoting the music of the Southern Appalachians. The festival includes the Fiddlin' 5K Road Race and Fun Run.
Artists
Daytime Stage: Midnight Plowboys, Little Creek, Lonesome Mountain Ears, Peg Twisters, George and Brooke Buckner, Don Pedi, Joe Penland, Carol Rifkin and Paul's Creek Band, Joyful Noise, Crooked Pine, Folk Heritage Dancers, Green Grass Cloggers, Bailey Mountain Cloggers, Cole Mountain Cloggers.
Ballad Singers: TBA.
Evening Stage: The Trantham Family, Roger Howell, Gabriel's Creek Band, The Nick Pickers, Analo Phillips, Richard Hurley, Kathryn Parham Brickey, Stoney Creek Boys, Joe Penland, Phil and Gaye Johnson, Betty Smith, Little Creek, Madison County Fiddlers, Bailey Mountain Cloggers, Green Valley Cloggers, Cole Mountain Cloggers.
Festival sites: Mars Hill University

View Larger Map
Daytime stage 10 a.m. to 4 p.m.; ballad and story swap 1:30 to 3:30 p.m.; evening show starts 7 p.m.

Daytime show is free; evening show $10, $5 younger than 12, free with Mars Hill University ID.
October 5 Clayton Shindig - Clayton
| | |
| --- | --- |
| The small-town gathering is a benefit for Toys for Tots, and also features a cornhole tournament, a barbecue cookoff and beer from local breweries.Click on the photo for more information. | |
Artists
Hackensaw Boys, Old Habits, Phillip Roebuck, Mountain Standard Time, Johnny Orr Band.
Festival site: Downtown Clayton
October 5 The Phantasmagoric Fall Ball - Moncure
Telephathic Productions presents an "all-night dance party" in the Magickal Forest.
Artists
Electric Soul Pandemic, Mac and Juice Quartet, Yesterday's Gravy, Imperial Blend, Nauticus, Hi Rollers, Wave Lynx, Pizza Jam, Surrealia.
Festival site: Magickal Forest
October 10 - 13 Shakori Hills Grassroots Festival - Silk Hope
| | |
| --- | --- |
| The semiannual Shakori Hills Grassroots Festival of Music & Dance (see April schedule) presents an eclectic mix of music - from rock to jazz and Americana, Cajun and klezmer - on five stages. There are also musicians' competitions, art and craft vendors, food vendors, games, a drum circle, children's activities and more. Donna the Buffalo is the host band. Click on the photo for more information. | |
Artists
Donna the Buffalo, Yonder Mountain String Band, Robert Randolph and The Family Band, International Blues Express with Sidi Toure and Cedric Watson, Preston Frank, Bombadil, Driftwood, Suenalo, Lake Street Dive, The Old Ceremony, Keith Secola and His Wild Band of Indians, Cedric Watson and Bijou Creole, Holy Ghost Tent Revival, Chic Gamine, Eilen Jewell, Orgone, The Revelers, The Stray Birds, The Whiskey Gentry, The Brand New Life, Randy Dean Whitt, Shirlette Ammons, The Letter Jackets, Elastic Bond, Mipso, Compa, dub Addis, Birds and Arrows, Jacob Jeffries Band, Crystal Bright and The Silver Hands, The South Carolina Broadcasters, Tom Maxwell and The Minor Drag, Kamara Thomas, Brett Harris, Big Fat Gap, Peter Lamb and The Wolves, Lakota John and Kin, Morning Brigade, Auxiliary House, Milkweed, Little Root, DJ Bill Kelly, ZamBamBooGee, Virgins Family Band, Daygot Leeyos Edwards, DJ Richard McVay, Community Trees, James Olin Oden, Wildcat Creek, Nikki Talley, Liz Moudy, Green Grass Cloggers, Cane Creek Cloggers, Paperhand Puppet Intervention, Shakori Hills Vinyl Lounge and more.
Festival site: Shakori Hills

View Larger Map
Times TBA.

Four-day pass: $85 early-bird, $95 in advance, $100 at gate; ages 13-15 $45 in advance, $55 at gate.
Thursday $20 in advance, $25 at gate; Friday $30 in advance, $35 at gate, Saturday $40 in advance, $45 at gate; Sunday $20 in advance, $25 at gate.
Ages 13-15 (at gate only): Thursday $12, Friday $17, Saturday $22, Sunday $12.

Camping: Tents $10; RVs $50 in advance, $60 at gate. RV more that 25 feet long or a vehicle and trailer pays double.
October 11 - 12 Mustang Music Festival - Corolla
The benefit for the Corolla Wild Horse Fund, a nonprofit organization working to protect and preserve the last remaining herd of Spanish Mustangs on the northern Outer Banks, presents acts on two stages, plus late night sets at a second site. Regional breweries and area restaurants will have contingents onsite alongside arts and craft vendors. See also the Mustang Spring Jam in May.
Artists
Friday: Karl Denson's Tiny Universe, Big Daddy Love, Bonerama, Seth Stainback and Roosterfoot, Kansas Bible Company, Category 5, Sean Olds and the Church of the Eternal. Late night: Formula, Former Champions.
Saturday: Orgone, The Critters, George Porter Jr. and the Runnin' Pardners, Eric Penrod Group, Violent Mae, David Wax Museum, Andy Begina. Late night: Zack Mexico, The Mantras.
Festival site: Mike Dianna's Grill Room, Sundogs Raw Bar & Grill (late night)

View Larger Map
2 to 10 p.m.; late night sets at Sundogs 10 p.m. to 1:30 a.m.

$45 or $35 with 10 non-perishable food items for the local food bank.
Younger than 12 free.
October 12 - 13 Pleasure Island Seafood, Blues & Jazz Festival - Kure Beach
The oceanside festival presents nationally recognized blues and jazz performers on two stages, plus coastal cuisine, crafts, a wine tasting, and a children's area with magicians, jugglers, clowns and more. The festival is sponsored by the Pleasure Island Chamber of Commerce, which serves Carolina Beach and Kure Beach. It will be in its 20th year in 2013.
Artists
Saturday: Blues Stage: Buddy Guy, Slide Brothers, Medusa Stone Does the Blues, Bobby Paltauf Experience, Big Bump & Stun Gunz.
Jazz Stage: Will McBride Group, Frog Project, BLP's Touch of Class.
Sunday: Blues Stage: Wet Willie, Randall Bramblett, Fatty Lumpkin and the Love Hogs.
Jazz Stage: Charlie and Rose Lucas, Freeport, Lee Venters and Vermillion Sands.
Festival site: Fort Fisher Air Force Recreational Area

View Larger Map
Begins 12:30 p.m. each day.

Two-day pass: $40 in advance.
Saturday only: $50
Sunday only: $15
Younger than 13 free.
October 17 - 20 LEAF - Black Mountain
| | |
| --- | --- |
| The semiannual LEAF - Lake Eden Arts Festival - embraces new ageism, world music and the outdoors at a mountain camp well-appointed for weekend festivals (see May schedule). Click on the photo for more information. | |
Artists
Dr. John and the Nite Trippers, Zap Mama, Vieux Fark Toure, Acoustic Syndicate, Soul Rebels Brass Band, Grupo Fantasma, James Hunter Six, BeauSoleil avec Michael Doucet, John Cowan Band, Rising Appalachia, King Britt, Lake Street Dive, 101 Runners, The BlueBrass Project, Orchesta GarDel, Dirty Bourbon River Show, Robin and Linda Williams, Underhill Rose, Samite of Uganda, Richard Wood and Gordon Beisher of Prince Edward Island, Metropolitan Klezmer, LEAF International Bequia Steel Pan Youth, contra dance with with Giant Robot Dance and Rodney Miller's Rhythm Raptors, late night techno contra with DJ Jor-D, Dehli 2 Dublin, Zansa, The Legendary Singing Stars, Panther God, and more.
Festival site: Camp Rockmont


View Larger Map
Four-day pass with tent camping (three nights): $142 adults, $118 ages 10-17 June 1-30; $158 and $129 July-August, $169 and $139 September-October 13.
Three-day pass with tent camping: $112 adults, $92 ages 10-17 June 1-30; $129 and $104 July-August, $146 and $113 September-October 13.
Community Pass (weekend for local residents): $73 adults, $60 ages 10-17 June 1-30; $82 and $71 July-August, $94 and $79 September-October 13.
Single-day passes (no camping):
Friday or Sunday: $29 adults, $24 ages 10-17 June 1-30; $35 and $29 July-August, $40 and $32 September -October 13.
Saturday: $38 adults, $33 ages 10-17 June 1-30; $45 and $40 July-August, $50 and $42 September-October 13.
Age 9 and younger free; younger than 18 must be with a parent. Packages for spring and fall festivals also available.

Cabins: Sleeps 9 $305; sleeps 12 $360; lodge room for five $305; lodge bunk $90. Prices for Friday and Saturday; Thursday add $55 for cabin, $35 for bunk.
October 19 Rowan Blues and Jazz Festival - Salisbury
The family-friendly and free festival is dedicated to preserving, promoting and presenting blues and jazz with emphasis on musicians from North Carolina's Piedmont and of all ages. Arts and crafts, and food vendors will also be a part of the festival.
Artists
Homemade Jamz Blues Band, Joe Robinson Jazz Revue, The Brubakers, Phil Wiggins, Gina Sicilia, Steady Rollin' Bob Margolin.
Festival site: Downtown Salisbury

View Larger Map
2 to 11 p.m.; gates open at 1 p.m.

General admission is free; limited VIP seating available through the website for $10.
October 25 - 27 Mountain Oasis Electronic Music Summit - Asheville
AC Entertainment, which produced Moogfest from 2010 to 2012 in Asheville, lost the right to the Moog name in 2013 and renamed its festival. In addition to concerts, the multi-venue event has presented panel discussions, Q&A sessions, workshops, visual art exhibitions, installations and film screenings.

Artists
Friday: Bassnectar, Neutral Milk Hotel, Deltron 30 30, Tricky, Baths, Rustie, Sparks, XXYYXX, Jacques Greene, Daniel Johnston, Half Japanese, Ital (live), Silver Apples, People Get Ready, Claude VonStroke, Jherek Bischoff, Nostalghia
Saturday: Nine Inch Nails, Animal Collective, Godspeed You! Black Emperor, Gary Numan, Chromatics, Zola Jesus and JG Thirlwell, The Bug, Bosnian Rainbows, Actress, Delorean, Sorne, Big Black Delta, Raime, King Britt Presents Fhloston, Paradigm feat. Pia Ercole, I Speak Machine (Tara Busch)
Sunday: Pretty Lights, How to Destroy Angels, Disclosure, Panty Raid, Darkside, The Orb, Mount Kimbie, Ulrich Schnauss, Jessie Ware, Shlohmo, Autre Ne Veut, Robert DeLong, T. Williams, Laurel Halo, Rudimental, How to Dress Well, William Basinski, Tourist, Alan Howarth, Cut Copy, Trash Audio, Panty Raid.
Festival site: Downtown Asheville

View Larger Map
Shows are indoors at various venues and are open to all ages.
Venues include U.S. Cellular Center (formerly Asheville Civic Center), Thomas Wolfe Auditorium, The Orange Peel.

Weekend pass: $149.50 (sold out), $174.50, $199.50.
Daily pass: TBA.
VIP weekend pass: $399.50.
Payment plans are available until June 3.
Return to Carolina Music Festivals' home page.
Go to November Music Festivals or September Music Festivals.
Visit Our Sister Sites
Carolina Outdoors Guide
This Land, Your Land
The Medium, The Message
---