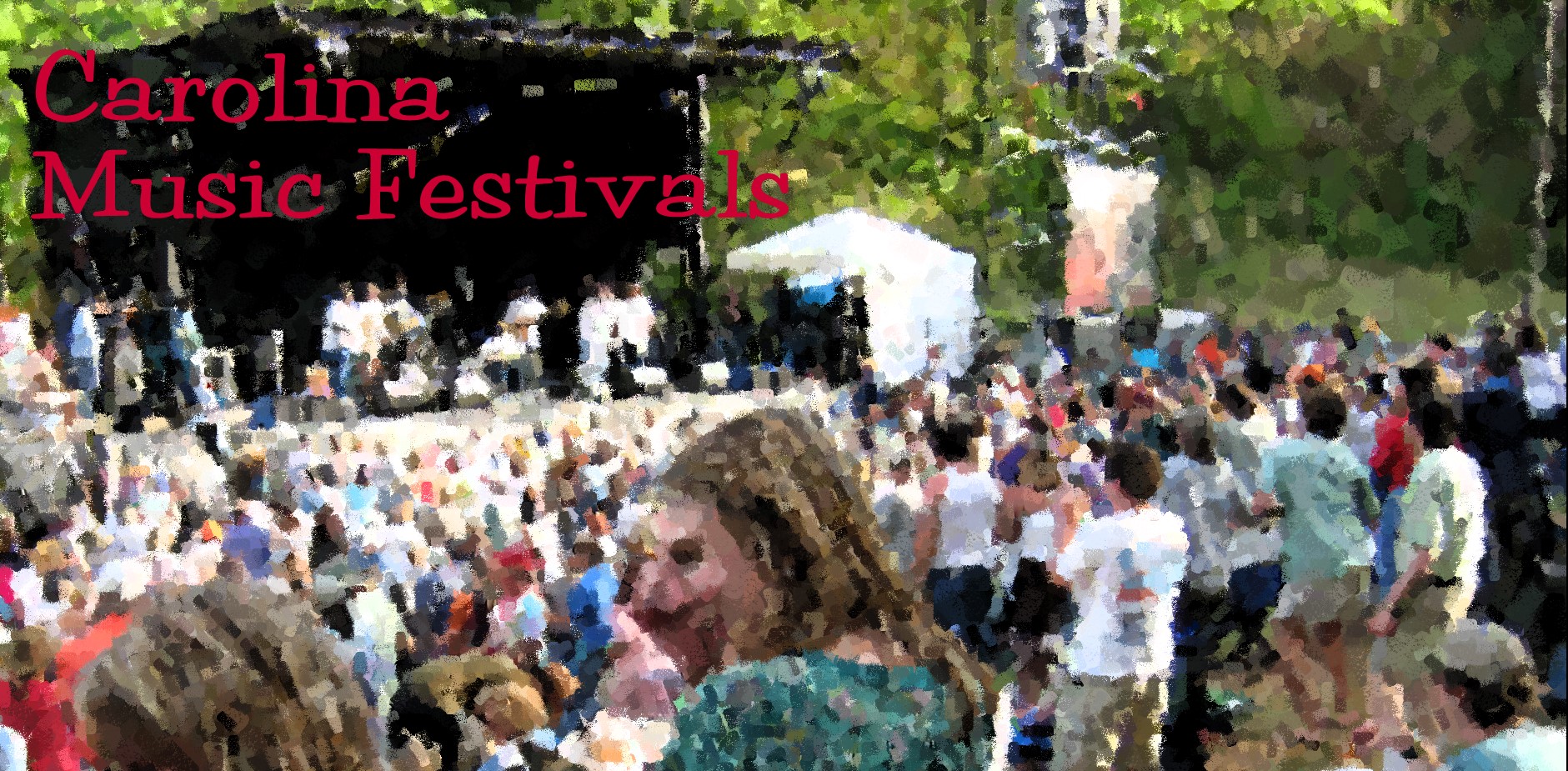 Carolina Music Festivals is a comprehensive calendar and guide to multi-act, daylong or multiple-day music festivals in North Carolina.
October 2014
Dates may be estimated based on last year's festival until confirmed by festival organizers.
September 30 - October 4 Wide Open Bluegrass Festival - Raleigh

The International Bluegrass Music Association's World of Bluegrass annual convention, awards show and fan festival relocated from Nashville to Raleigh for 2013 through 2018. It presents newgrass, jamgrass, traditional bluegrass, old-time and more by more than 150 acts in Wide Open Bluegrass at the downtown amphitheater, the Bluegrass Ramble showcase performances at downtown clubs and the Convention Center, and a free street festival put on by the City of Raleigh. The convention also includes a business conference, music expo, a bluegrass-oriented film festival (new for 2014), workshops, fan / celebrity meet-and-greets and more.
The IBMA Awards show, which is also a part of the weekend, requires separate tickets (see below). Click on the photo for more information.
Artists
Amphitheater: Ricky Skaggs and Kentucky Thunder with Bruce Hornsby, Del McCoury Band with special guests, Hot Rize, Gibson Brothers, Steep Canyon Rangers, Sierra Hull; the Wide Open Jam with Sam Bush, Bela Fleck, Jerry Douglas, Edgar Meyer, Bryan Sutton and Stuart Duncan; Yonder Mountain String Band, Jesse McReynolds, Bela Fleck and Abigail Washburn, Balsam Range, Lonesome River Band, Chatham County Line, Noam Pikelny and Stuart Duncan, Della Mae, Russell Moore and IIIrd Tyme Out, Grascals, Junior Sisk and Ramblers Choice, Special Consensus, Town Mountain, Deadly Gentlemen, James King Band, Larry Stephenson Band, Mustered Courage, The Roys, Davidson Brothers, Bobby Hicks with Tony Williamson and Ron Shuffler, Jerry Douglas' Earls of Leicester.
Bluegrass Ramble: Barbwire, Becky Buller, Compton and Newberry, Constant Change, Darin and Brooke Aldridge, Davidson Brothers, Donna Ulisse, Driven, Flatt Lonesome, Helen Highwater Stringband, Irene Kelly, Jeff Scroggins and Colorado, Jim Lauderdale, Monroe Crossing, Moore Brothers Band, Mr Sun, Mustered Courage, New Country Rehab, Newtown, Rebecca Frazier and Hit and Run, Red June, Sister Sadie, Special Consensus, The Barefoot Movement, The Danberrys, The Earl Brothers, The Grass Cats, The Lonely Heartstring Band, The Railsplitters, The Rigneys.
Street Festival: TBA.
Festival site: Red Hat Amphitheater, Raleigh Convention Center, City Plaza, Nearby Clubs


View Larger Map
Convention Center: 10 a.m. to 4 p.m.; Red Hat Amphitheater: 1 p.m. to 11 p.m.; Bluegrass Ramble: 6 p.m. to 2 a.m. Tuesday and Wednesday, 10 p.m. to 2 a.m. Thursday through Saturday.

Two-day pass with reserved seat at amphitheater: $120 IBMA member, $140 nonmember.
Two-day general admission pass: $80 IBMA member, $100 nonmember; younger than 15: $60 IBMA member, $70 nonmember.
Daily general admission pass: $40 IBMA member, $50 nonmember; younger than 15: $30 IBMA member, $35 nonmember.

Bluegrass Ramble: full pass $100 IBMA member, $150 nonmember; or $10 per venue each evening.

Bluegrass Wide Open tickets include admission to expo as well as amphitheater and convention center stages. Bluegrass Ramble tickets are separate but are included with business conference registration.

IBMA Awards: Lifetime IBMA Members - $90, $50, $40.
Organizational, Individual, or Grass Roots Club IBMA Members - $95, $55, $45.
Non-members: $105, $65, $55.

Camping: N.C. State Fairgrounds (about 5 miles away with a shuttle available) $25 per night for tents, campers or RVs with full hookups (50 sites available). RV camping with no hookups adjacent to convention center $30 per night (30 sites).
October 3 - 5 New Bern Storytelling and Folk Music Festival - New Bern
The festival debuted in 2013 to present contemporary folk music and free-form storytelling by local artists. Shows move among several downtown New Bern venues (see schedule at link).
Musical Artists
TBA. 2013 lineup included The Barefoot Movement, The Swayback Sisters, Diali Cissokho, and nine more.

Festival sites: Trent River Coffee Company, Isaac Taylor Garden, Bank of the Arts, James Reed Lane.

View Larger Map
7 p.m. Friday, 1 to 5 p.m. and 7 p.m. Saturday; 1 to 5 p.m. and 6:30 p.m. Sunday.

Friday: $15 in advance, $20 day of show.
Saturday, Sunday afternoon: free.
Sunday evening (Swayback Sisters): $10.
October 4 WNC Barnaroo - Leicester
The festival showcases local and regional singer songwriters and bands in the rock 'n' roll, hard rock and funk genres on two stages. There will also be a food truck, art vendors and special entertainment, like fire spinning. A portion of proceeds will go to a local music charity TBA.
Artists
Lyric, Leigh Glass, Andrew Scotchie and the River Rats, Outside Soul, The Paper Crowns, Matt Townsend, Red Honey, Porch 40, The Lowdown, Jabe Fisher, more TBA.

Festival site: Franny's Farm

View Larger Map
Gates open 10 a.m., music starts around noon.

$20, $35 with camping.
October 4 Bascom Lamar Lunsford Festival - Mars Hill
Regional musicians and dancers remember Bascom Lamar Lunsford, a musician and folklorist who dedicated his life to collecting and promoting the music of the Southern Appalachians. The festival includes the Fiddlin' 5K Road Race and Fun Run.
Artists
TBA. 2013 lineup included The Trantham Family, Roger Howell, Midnight Plowboys and about 20 more.
Festival sites: Mars Hill University

View Larger Map
Daytime stage 10 a.m. to 4 p.m.; ballad and story swap 1:30 to 3:30 p.m.; evening show starts 7 p.m.

Daytime show is free; evening show $10, $5 younger than 12, free with Mars Hill University ID.
October 4 Down South Music Festival - Sanford
The Southern country music festival began as a benefit for victims of a tornado that hit the Sanford area on April 16, 2011. It is presented by Lights on Broadway a group that supports organizations in the Lee County community of Broadway. There will also be food and drink vendors.
Artists
Brick City South, The Seaside Band, Mr. Cat, Larry Frick, Craig Campbell.
Festival sites: Lion's Club Fairgrounds

View Larger Map
Gates open 4 p.m., music starts at 5 p.m.

$15 in advance; $20 day of show or $15 with four cans of food at the gate.
Younger than 7 free.

24 spaces for 10'x10' tents will be available day of show for $20 each.
October 5 The Phantasmagoric Fall Ball - Moncure
Telephathic Productions, which also puts on the Sensational Spring Fling, presents an "all-night dance party" in the Magickal Forest.
Artists
TBA. 2013 lineup included Electric Soul Pandemic, Mac and Juice Quartet, Yesterday's Gravy and six more.
Festival site: Magickal Forest
October 9 - 12 Shakori Hills Grassroots Festival - Silk Hope
| | |
| --- | --- |
| The semiannual Shakori Hills Grassroots Festival of Music & Dance (see April schedule) presents an eclectic mix of music - from rock to jazz and Americana, Cajun and klezmer - on five stages. There are also musicians' competitions, art and craft vendors, food vendors, games, a drum circle, children's activities and more. Donna the Buffalo is the host band. Click on the photo for more information. | |
Artists
Donna the Buffalo, North Mississippi Allstars, Nahko and Medicine for the People, The Soul Rebels, The Duhks, Las Cafeteras, Preston Frank, Bubba George Stringband, The Flying Clouds of South Carolina, Suenalo, DJ Bill Kelly, Frank Fairfield, Richie Stearns and Rosie Newton, Loamlands, Elastic Bond, Milkweed, Telekinetic Walrus, Son Viejaro, Bobby Henrie and The Goners, Dark Water Rising, Adrienne Mack-Davis, Swear and Shake, AJ Ghent, Shannon Whitworth, Zambamboogee, Jack the Radio, The Broadcast, Liquid Sound, Jennie Lowe Stearns and The Fire Choir, Kelley and The Cowboys, Jown Howie Jr. and The Rosewood Bluff, Big Fat Gap, Laura Reed, Auxiliary House, Lobo Marino, Woody Pines, Lowland Hum, Steph Stewart and The Boyfriends, Randy Dean Whitt, Tommy Edwards and Jack Lawrence, The Holland Bros., Locust Honey, Tea Cup Gin, Little Root, Lighnin' Wells, Lynda and Pattie, The Haywood County Ramblers, Ellis Dyson and The Shambles, The Falconers, Wildcat Creek, Moonshine Racers, Lora Pendleton and Fwends, Odd Birds, Casey Nees, Spirit Posse, Cane Creek Cloggers, Wassa Pan Afrika Dance Ensemble, Flowjo Family Circus, Tanglewood Puppets, Paperhand Puppet Intervention, and more.
Festival site: Shakori Hills

View Larger Map
Times TBA.

Four-day pass: $85 early-bird, $95 in advance, $100 at gate; ages 13-15 $45 in advance, $55 at gate.
Thursday $20 in advance, $25 at gate; Friday $30 in advance, $35 at gate, Saturday $40 in advance, $45 at gate; Sunday $20 in advance, $25 at gate.
Ages 13-15 (at gate only): Thursday $12, Friday $17, Saturday $22, Sunday $12.

Camping: Tents $10; RVs $50 in advance, $60 at gate. RV more that 25 feet long or a vehicle and trailer pays double.
October 10 - 11 Mustang Music Festival - Corolla
The benefit for the Corolla Wild Horse Fund, a nonprofit organization working to protect and preserve the last remaining herd of Spanish Mustangs on the northern Outer Banks, presents a slate of shows at its new home and late night sets at a various other venues. Regional breweries and area restaurants will have contingents onsite alongside arts and craft vendors. See also the Mustang Spring Jam in May.
Artists
JJ Grey and Mofro, The New Mastersounds, The Revivalists, Roadkill Ghost Choir, New Madrid, People's Blues of Richmond, Jamie Kent, Tim Reynolds and TR3, Seth Stainbeck and Roosterfoot, Zack Mexico, The Tills, Dewey Via, Formula Category 5, The London Souls.
Festival site: Whalehead

View Larger Map
Times TBA.

Two-day pass: $59.
Daily: $35.
VIP pass (admission to Thursday kickoff party, private viewing area, food, beer, wine, flush-toilet restrooms): $179.
Younger than 13 free.
October 11 Clayton Shindig - Clayton
| | |
| --- | --- |
| The small-town gathering is a benefit for Toys for Tots, and also features a barbecue cookoff, beer from local breweries and a cornhole tournament.Click on the photo for more information. | |
Artists
Big Daddy Love, Hackensaw Boys, Sol Driven Train, Cutthroat Shamrock, Old Habits, Swift Creek.
Festival site: Downtown Clayton
October 11 Todd New River Festival - Todd
The free festival sponsored by the Todd Ruritan club on the banks of the New River features bluegrass and a gospel sing, a checkers playoff, a horseshoe toss, craft displays, storytelling and children's activities.
Artists
TBA. 2013 lineup included Left of Blue, Upright and Breathing, Norris Family and four more.
Festival site: Walter and Annie Cook Park
October 11 - 12 Pleasure Island Seafood, Blues & Jazz Festival - Kure Beach
The oceanside festival presents nationally recognized blues and jazz performers on two stages, plus coastal cuisine, crafts, a wine tasting, and a children's area with magicians, jugglers, clowns and more. The festival is sponsored by the Pleasure Island Chamber of Commerce, which serves Carolina Beach and Kure Beach.
Artists
Saturday: Blues Stage - Robert Cray Band, Shemekia Copeland, Justin Fox, Blues World Order, Fatty Lumpkin and the Love Hogs.
Jazz Stage - BLP's Touch of Jazz, Lee Ventors and Vermillon Sands, Lynne and the Wave.
Sunday: Blues Stage - Delbert McClinton, Damon Fowler, Big Bump and the Stun Gunz.
Jazz Stage - Snake Malone and the Black Cat Bone, Nita B and the Swinging Soiree, Nina Repeta.
Festival site: Fort Fisher Air Force Recreational Area

View Larger Map
Begins 12:30 p.m. each day; gates open at 11 a.m.

Two-day pass: $50 in advance.
Saturday only: $60.
Sunday only: $25.
Younger than 13 free.

Tickets are limited; this event does sell out.
October 16 - 19 LEAF - Black Mountain
| | |
| --- | --- |
| The semiannual LEAF - Lake Eden Arts Festival - embraces new ageism, world music and the outdoors at a mountain camp well-appointed for weekend festivals (see May schedule). Click on the photo for more information. | |
Artists
Talib Kweli, Bela Fleck and Abigail Washburn, Robert Randolph and the Family Band, Nahko and Medicine for the People, Rising Appalachia, Dehli 2 Dublin, Dom Flemons Trio, Shannon Whitworth, The Nth Power, David Wilcox, Las Cafeteras, Mandolin Orange, Modern India, Middle Grounds, Willie Sugarcapps, Mac Arnold and Plate Full O' Blues, Bill Myers and the Monitors, David LaMotte, Suenalo, The Revelers, Stephanie Winters, The Syncopaths, Nor'easter, Shirlette Ammons, DJ Jor-D, The Secret B-Sides, Santos and the Seraphim Arkistra, Mawre and Co., Hoveycraft, Gee's Bend Quilters and Singers, Mande Foly, Wayne Espalin, MarchForth Marching Band, Kickin' It Crew Jelly Dome, HoveyKraft.
Festival site: Camp Rockmont


View Larger Map
Four-day pass with tent camping (three nights): $142 adults, $118 ages 10-17 June 1-30; $158 and $129 July-August, $169 and $139 September-October 13.
Three-day pass with tent camping: $112 adults, $92 ages 10-17 June 1-30; $129 and $104 July-August, $146 and $113 September-October 13.
Community Pass (weekend for local residents): $73 adults, $60 ages 10-17 June 1-30; $82 and $71 July-August, $94 and $79 September-October 13.
Single-day passes (no camping):
Friday or Sunday: $29 adults, $24 ages 10-17 June 1-30; $35 and $29 July-August, $40 and $32 September -October 13.
Saturday: $38 adults, $33 ages 10-17 June 1-30; $45 and $40 July-August, $50 and $42 September-October 13.
Age 9 and younger free; younger than 18 must be with a parent. Packages for spring and fall festivals also available.

Cabins: Sleeps 9 $305; sleeps 12 $360; lodge room for five $305; lodge bunk $90. Prices for Friday and Saturday; Thursday add $55 for cabin, $35 for bunk.
October 18 American Roots Bluegrass Festival - Thomasville
An event planner / musician and her journalist assistant in Thomasville established the festival with its 2014 edition. In addition to traditional and modern bluegrass and musicians' workshops, vendors will offer food, crafts and merchandise.
Artists
Lonesome River Band, The Loose Cannons, Destination Bluegrass Band, Back Porch Bluegrass, Smith Family and The Southbound Pickers, Ben Scoggin and Family.
Festival site: TBA

View Larger Map
Workshops 8 to 10 a.m., music 10 a.m. to 6 p.m.

$15 advance, $20 at door.
VIP (early admission for workshps, t-shirt, goodie bag): $30 advance, $35 at door.
Age 5 to 13: $10 advance, $15 at door.
Younger than 5 free with adult.
October 19 Rowan Blues and Jazz Festival - Salisbury
The family-friendly and free festival is dedicated to preserving, promoting and presenting blues and jazz with emphasis on musicians from North Carolina's Piedmont and of all ages. Arts and crafts, and food vendors will also be a part of the festival.
Artists
TBA. 2013 lineup included Homemade Jamz Blues Band, Joe Robinson Jazz Revue, The Brubakers, and three more.
Festival site: Downtown Salisbury

View Larger Map
2 to 11 p.m.; gates open at 1 p.m.

General admission is free; limited VIP seating available through the website for $10.
Return to Carolina Music Festivals' home page.
Go to November Music Festivals or September Music Festivals.
Visit Our Sister Sites
Carolina Outdoors Guide
This Land, Your Land
The Medium, The Message
---