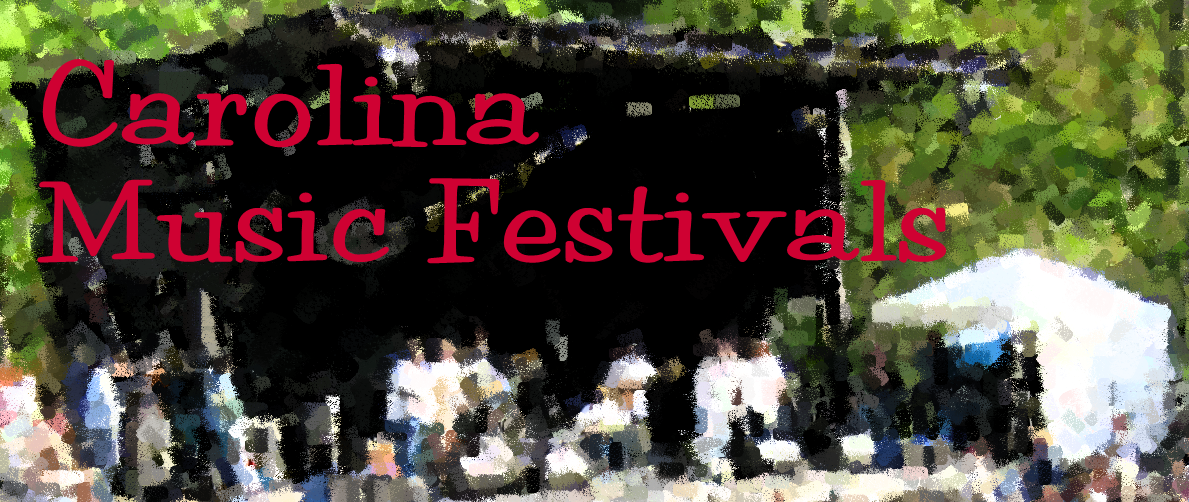 ** Mobile Users - turn your device sideways for better results **
Carolina Music Festivals
are Family Festivals
Carolina Music Festivals is a comprehensive calendar and guide to multi-act, daylong or multiple-day music festivals in North Carolina. Our article below first appeared in April 2012 editions of Carolina Parent and Piedmont Parent magazines.
If you have shied away from attending a North Carolina music festival because you have kids, you and the young ones are missing out on family-friendly events that you could all enjoy.
Today's music festivals are not the counter-culture gatherings of a generation ago. Most are well organized and may be presented by name-brand sponsors.
Some music festivals are for adults, and their websites will likely make the fact apparent. But many cater to families by presenting a variety of activities and performances for the younger set. Most discount tickets for youths and let the very young in for free.
A seven-month season with nearly 100 music festivals across North Carolina begins in April, with the Shakori Hills Grassroots Festival of Music and Dance in Silk Hope, and MerleFest in Wilkesboro among the month's larger events.
Sara Waters, co-coordinator of the semi-annual Shakori Hills festivals, says they have always stressed the value of music and art through education. "And to start with the kids is a good place to start."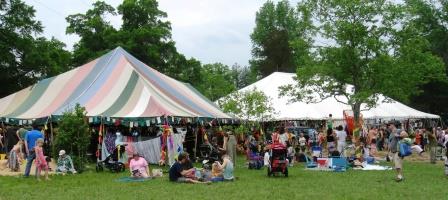 Shakori Hills, where four days of music may range from bluegrass to rock, jazz, Zydeco and Klezmer, places its Kids' Zone at the center of the festival's 72-acre farm. Beyond storytelling, simple crafts and bubbles for little kids, there are organized games like Capture the Flag and crafts like tie-dying for older children and, in a separate area, poetry, songwriting and instrumental workshops, foosball and an open mic stage for teenagers. Festival performers also visit schools in Chatham, Durham and Orange counties.

A week after Shakori Hills each April, MerleFest takes over the Wilkes Community College campus for four days to present Americana, bluegrass, country and rock music on more than a dozen stages.

School groups are admitted to MerleFest for free on Friday, bringing about 3,200 kids in grades 5, 8 and 12 to the festival. MerleFest's Little Pickers' Area offers children's games and crafts, storytelling and music. In addition to three Youth Showcase performances during the weekend, which children 16 and younger can apply to perform in, the festival books children's acts for the Little Pickers' Stage.

In mid-May and October, the LEAF (Lake Eden Arts Festival) in Black Mountain puts on four days of world music, folk, rock, hip hop and Americana. The festival, which is held at Camp Rockmont, a children's camp, is all about a family experience, says Jennifer Pickering, its executive director.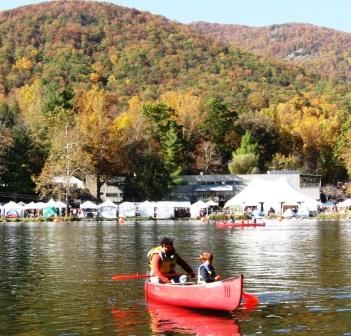 LEAF's Kids' Village has two stages for performances by and for kids, a musical instrument petting zoo, craft and costume play, a climbing wall, roving jugglers and stilt-walkers, and more. LEAF also offers day care until late at night, and a tent for nursing, changing diapers or simply rocking an unsettled child.

At the lake, a "Splash Pass" provides access to canoes, swimming and a zipline that starts on a hillside and splashes down in the water.

The LEAF in Schools & Streets program sends teaching artists into area schools, and youth musicians from the program play at the festival.

"Since the start, we wanted to make it for all ages, an intergenerational experience," Pickering says.

"For many, LEAF is a family tradition. Some who come every time, who are now in their teens, have been coming since they were in diapers."
Families at the Festival
Kippy Perkins and her husband, Tom, of Chapel Hill have taken their boys, now 16, 14, 12 and 8 years old, to LEAF almost every spring and fall since the festival began. "I've only missed two, and it was because I was having babies," she says.
Her boys "love to hang out. They love to run around, and the freedom. It's safe. It's like camp for all of us."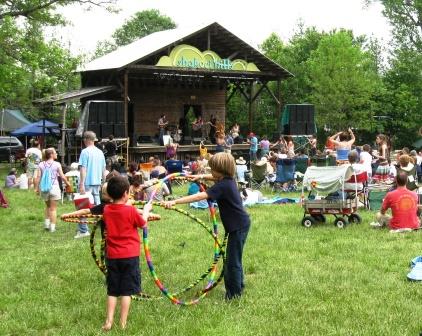 Anne and Cleve Tanner of Forksville, Va., have been taking their two nieces, now 14 and 16, to Shakori Hills for about 10 years. They camp alongside three families from Cary with seven kids among them.

"They're friends and they see each other twice a year, and they catch up and have a great time," Anne Tanner says.

"We've never felt uncomfortable at Shakori. We've never had a situation where we've felt uncomfortable with the kids."

As Tanner's nieces have grown, they've begun to appreciate the festivals' music more and have taken up musical instruments themselves. Perkins' boys enjoy world and hip hop music at LEAF, she says.

Both women say the festivals' diversity of music and people has been a learning experience for the kids.

"I think it expands their whole horizons," Tanner says. "They see different people from different countries who dress and think differently. It's just a good experience."
A Music-Centered Community
Attending a multi-day music festival is like vacationing among a culture dedicated to live music. Larger festivals, especially, have all the amenities you need to immerse yourself in the sounds, sights, people and play.
Festival food vendors typically offer fare ranging from fair food to balanced meals, and festivals usually allow patrons to bring coolers in. Some festivals allow or sell alcohol, though many prohibit it. Camp chairs are standard equipment, but some festivals offer reserved seating for higher prices, or VIP packages with access to tents and perks like artists' receptions.
Prepare for an outdoor music festival as you would for any day outdoors that will stretch into the evening. This includes sunscreen and hats, and layers of clothing to add after sunset. Do not forget the rain gear.
Check festivals' websites for what is allowed, but in general you can bring along the things you normally would to keep children happy when they're not occupied with the activities festival organizers have planned just for their amusement.


Return to the Carolina Music Festivals home page.


Visit Our Sister Sites
Carolina Outdoors Guide // This Land, Your Land

PC Nelson Communications // The Medium, The Message


---